As promised, I'll try to give my 2 cents worth of opinion for the 7591 LEGO Toy Story Construct a Zurg.   This set is priced exactly the same as the 7592 LEGO Toy Story Construct a Buzz set.  I'll also provide a similar review of that later on comparing the value of the two. 
This set is not very big.  Think it was one of those which benefited from Lego listening to consumers' feedback of not to put too much air into the packaging.  I got this set at one of the usual Metro Sales with 20% discount but i couldn't remember exactly when I bought it.  Signs of buying too much Lego until lost track of them. 🙂
The front and back of the box are simple, showing the Zurg with his powerful weapon which actually can store up to 3 balls as ammo in this set.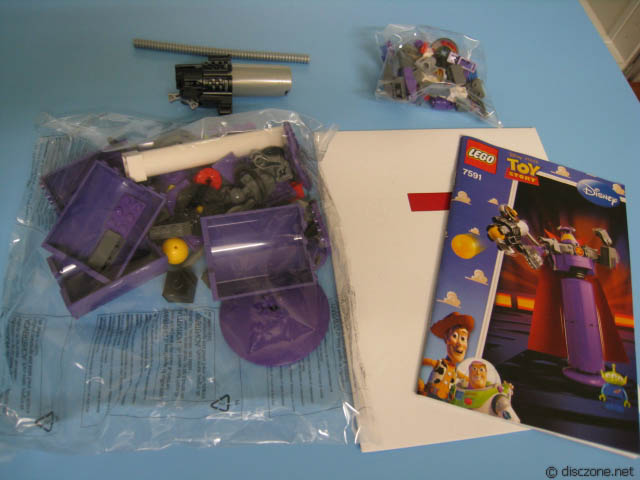 As shown, the whole set only consist of 1 big and 1 small pack of parts.  You can see that Zurg's weapon is quite large.  The white pack with the red color in the centre actually contains Zurg's robe and it's actually made of cloth instead of the usual paper. 🙂
Assembly is quite fast as excepted (less than 20 minutes) as the parts wasn't that many.  Also, as Zurg is quite big, there are not much small parts to handle.  The only tricky bit is actually Zurg's robe which can be quite challenging to help him put on.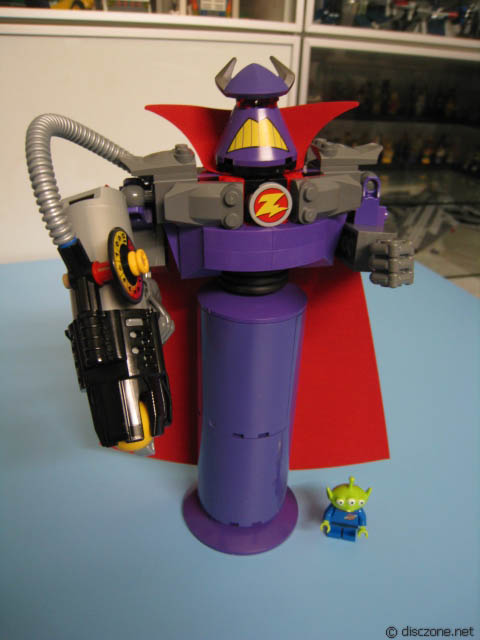 That's how the whole set looks like after completion.  Interestingly, Zurg can still balance himself quite well even with such a bulking weapon in hand.  Also, not too sure why, but the set comes with a very cute alien.  Later on, when I was doing the 7592 Construct a Buzz, I realised that set too came with the very same alien.
In this set, I saw something different from the rest of the Lego sets that I've completed.  The joints of Zurg is actually of a ball type so that the arm can be rotated with greater flexibility.  The arms and hands of Zurg are all fitted together with this design.  I just hope that this will not get loose as the days goes by.  Another thing to note is that there are no stickers for this set.  All the graphics are nicely printed onto the parts.  This is better as stickers tend to come off or deface after a couple of years.
Overall, I would give this set a 7 out of 10.  For it's new joint design as well as the printed graphics.  Price wise, this set is not as highly valued compared with Buzz's set.  I'll show you why in the Construct-A-Buzz review. 🙂