Introduction
I have been using Synology Network Attached Storage (NAS) since mid-2011 starting with the DS1511+.  I still remembered that I bought it from Memory World at Funan Centre together with a 2GB SODIMM memory upgrade for an arm and a leg back then. I was using 5 x 2TB Samsung F4 with the DS1511+ and never turned back.  Along the way, I did various HDD upgrades, moving from 2TB to 3TB to 4TB and 10TB and now I'm looking at 12TB HDDs.
So how did I started using NAS? It all started because I was looking for some alternative to USB-based external storage to backup and safe keep my files. The requirements then evolved into online access to these files among the various devices and PCs that I am using. I started from Direct Attached Storage actually, then moving onto DLink's DNS-323 and DNS-343. After that, I got to know about Synology products starting with the DiskStation DS1511+. Along the way, I've also used the DS412+ DS213, DS216Play, DS1515+, and DS918+. For me, the smaller 2 bays are usually used as backup storage of my files whereas the 4-5 bays are used as media servers, virtual machines, or docker host systems. This is because the 4-5 bays DiskStations are usually more powerful, with the ability to increase their memory, larger network bandwidth (or with expansion capability), and of course, larger storage capacity.
Upgrade Q&A
My friends and colleagues have been asking me many questions regarding my experience in using NAS, especially Synology ones. Maybe I'll try to tabulate a few common ones here to share with everyone.,
Q1: When should I upgrade the storage capacity of my NAS?
A1: When to increase the NAS capacity is a more straightforward question. Usually, I'll look to upgrade the HDDs in my NAS when the storage capacity hits around 80% filled. Of course, I'll always try to house keep the contents in the NAS, empty out the recycle bins, remove unwanted backups and time machine images prior to buying new and large HDDs. Everyone will have the habit to stockpile files (and rubbish) in storage when we have abundance. That's why regular housekeeping of the files in all your storage is important. Based on my experience, the housekeeping triggered by the first alarm of hitting 80% storage capacity in the NAS can usually recover back at least 20-30% of the storage space and deferring the need to upgrade the HDDs in the NAS.
Q2: When should I upgrade the memory (RAM) of my NAS?
A2: If your NAS allows you to upgrade its RAM memory or even add on more cache, you should first consider what you are using your NAS for. If you are running VMs, Dockers, then the increase in RAM memory will certainly help your stuff to run more smoothly. However, do bear in mind that the NAS is still limited by its CPU capacity. Hence, just upgrade to the amount of RAM memory you need, don't have to over-invest.
Q3: Do I need to have SSD as cache in my NAS?
A3: Frankly, for normal home usage of NAS, like as network storage or media servers, I don't really think we need to have the secondary cache provided by the SSDs. I would only recommend the use of the cache for power users such as online video editing or if your connected user base for the NAS is very high. Save the $$ for other areas of upgrades.
Q4: What factors to consider whether to upgrade the NAS?
A4: For me, I would consider these three factors for when to do NAS upgrade: (a) Obsolesce and Support, (b) Performance and Demand, and (c) New Features. I always don't feel comfortable using products that have reached their end of life or do not have any more support. This is especially important for things such as NAS and HDDs as we are using them as our backup. So whenever OEMs announce any of the products that I'm using are going to be end-of-support (EOS) or when warranties run out, I'll also conduct a technical refresh (tech-refresh) to replace them. For the second factor of performance and demand, I would also consider upgrading my setups whenever the equipment non longer is able to keep up with my workload demands or the performance I am expecting. For these, I would also consider interim or minor upgrades before taking the purge to replace the whole set of equipment. Last but not least, new features announced by OEMs that I need but not supported by my current setup would also prompt me to conduct tech-refresh. However, one must be very firm and clear when using the third factor to decide on an upgrade. Don't end up mistaking "Wants" as "Needs" every time. 😋
Q5: What should I look out for when upgrading my NAS?
A5: Regardless of which path or method recommended by the OEM or community experts, always remember to backup your critical data, from the NAS you are migrating out from, to an alternative location. Also, always follow the instructions step by step. Do not rush and be patient.
New Kid on the Block
I hope the above Q&A are useful to all readers to understand more about upgrades or NAS. Let's now take a look at my new Synology DiskStation DS1621+ that will be replacing my soon-to-EOS DiskStation DS1515+.
The Synology DiskStation DS1621+ was just released in late 2020.  It is a 6-bay NAS targeted at business or IT enthusiasts. Besides the usual hardware features of 6 HDD Bays, expandable to 32GB memory (supports ECC RAM now), 4 x 1GbE Network ports, 3 x USB3.2 ports, 2x eSATA ports for expansion to DX517 (another 10 drives), this is also the first time Synology DiskStation DS1621+ is using an AMD Ryzen V1500B Quad-core@2.2 GHz compared to the previous Intel Celeron platforms.  Also with the separate 2 x NVMe slots, the PCIe 3.0 slot can be used for a 10 or 2.5 GbE card. One thing to note, the new Synology DiskStation DS1621+ no long supports hardware video transcoding.  This is something to note for buyers who are getting the NAS for media-related usage.  More details on the Synology DiskStation DS1621+ can be found in the detailed feature datasheet.
This blog post will cover some of the hardware aspects of the Synology DiskStation DS1621+ while the setup and migration from the Synology DiskStation DS1515+ to Synology DiskStation DS1621+ will be covered in another blog post.  Keep a lookout for it!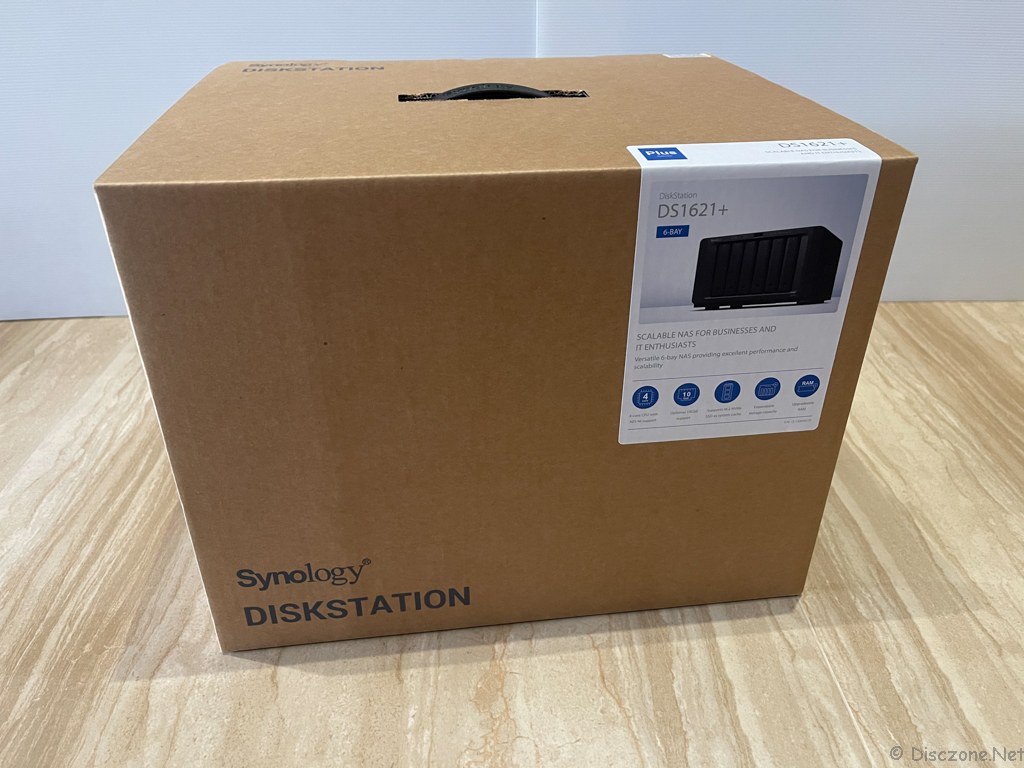 The unmistakable Synology DiskStation brown carton box.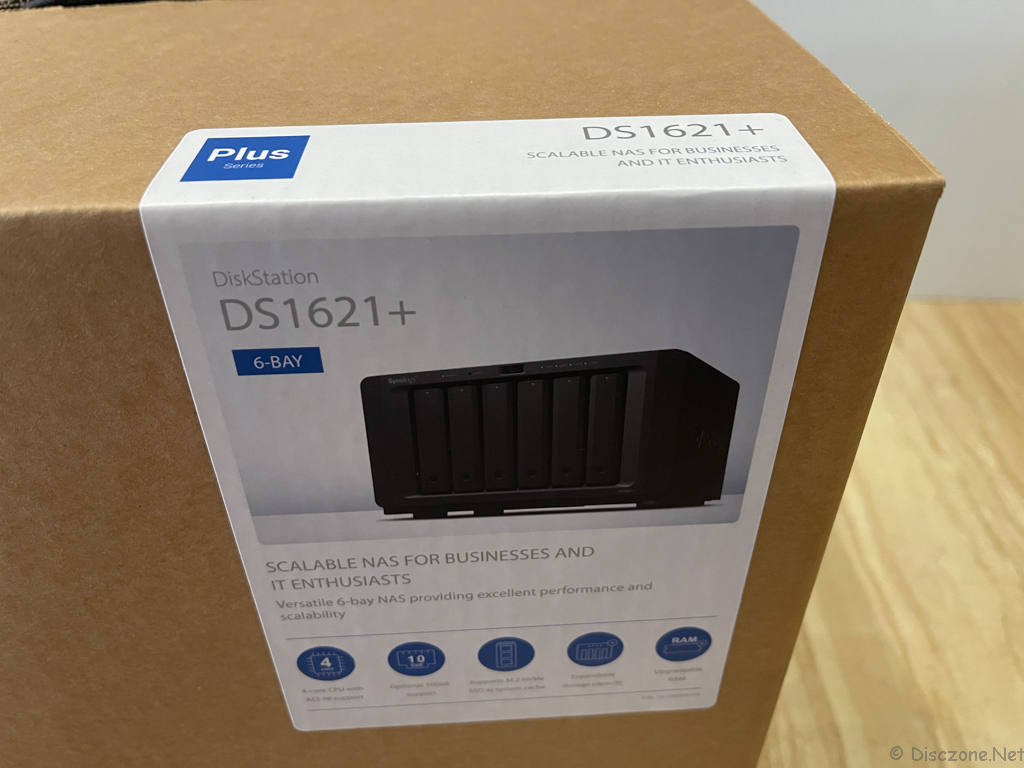 Scalable NAS for Businesses and IT Enthusiasts (that's me!)
What's inside the carton box.
Accessories box on top.  The Synology DiskStation DS1621+ is fully protected by thick foam.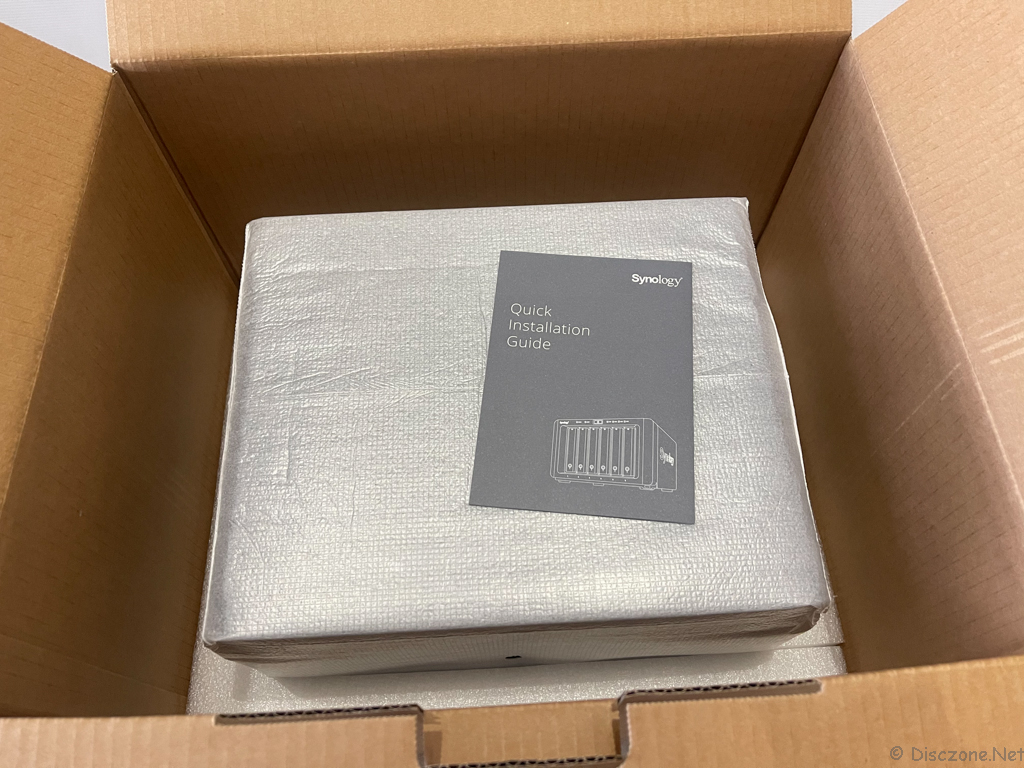 See the Synology DiskStation DS1621+ with its Quick Installation Guide.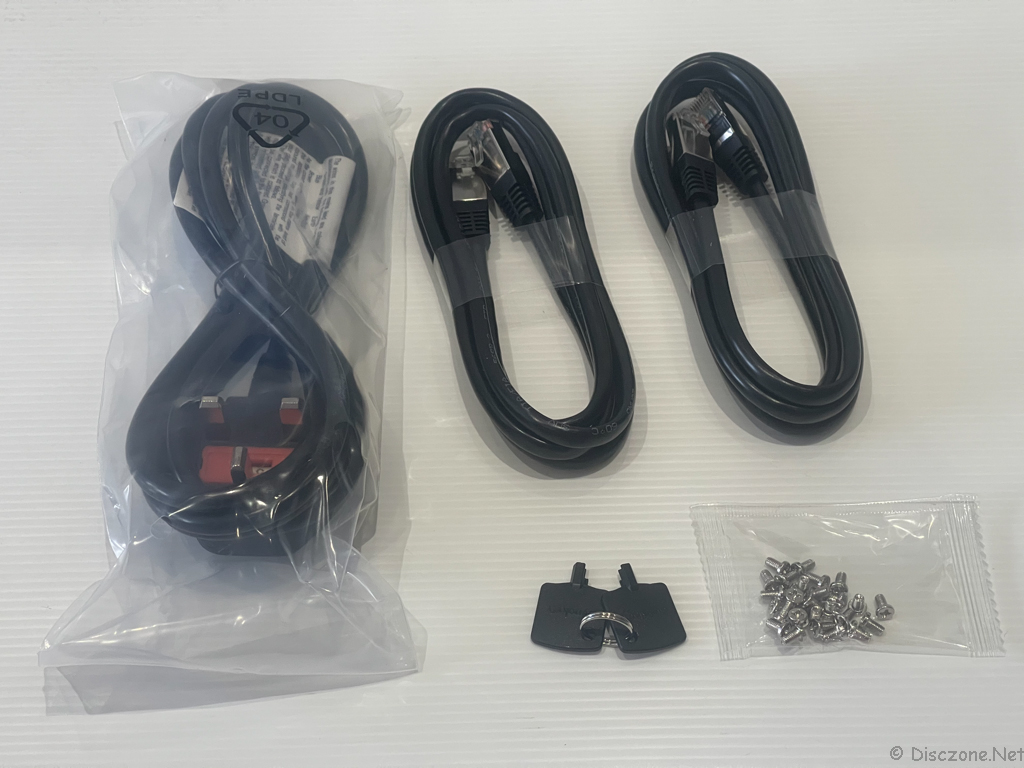 Usual accessories: Power Cord, 2 x UTP cable, keys, and HDD/SSD mounting screws.
My first 6-bay NAS. The layout is still very much like the older DS1515+ that I have: Status LED by the left; Power button in center; LAN LEDs on the right.
See the USB 3.2 port below?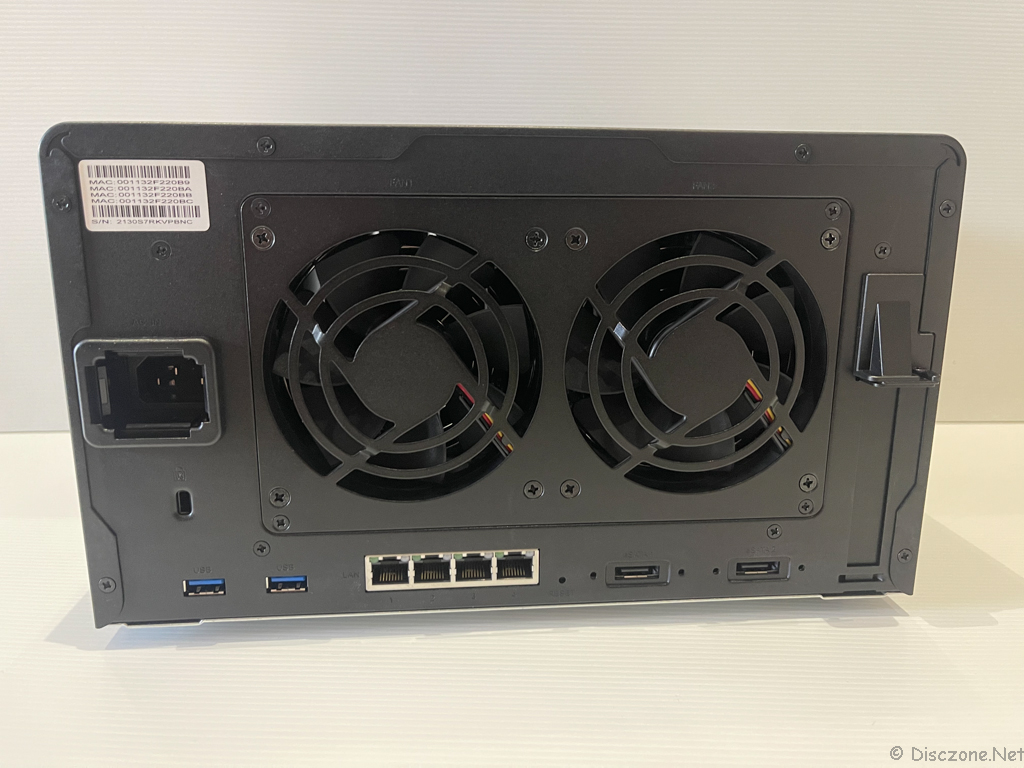 2 big fans with lots of connectivity ports behind the Synology DiskStation DS1621+.  Expansion PCI cards will use the single slot on the right.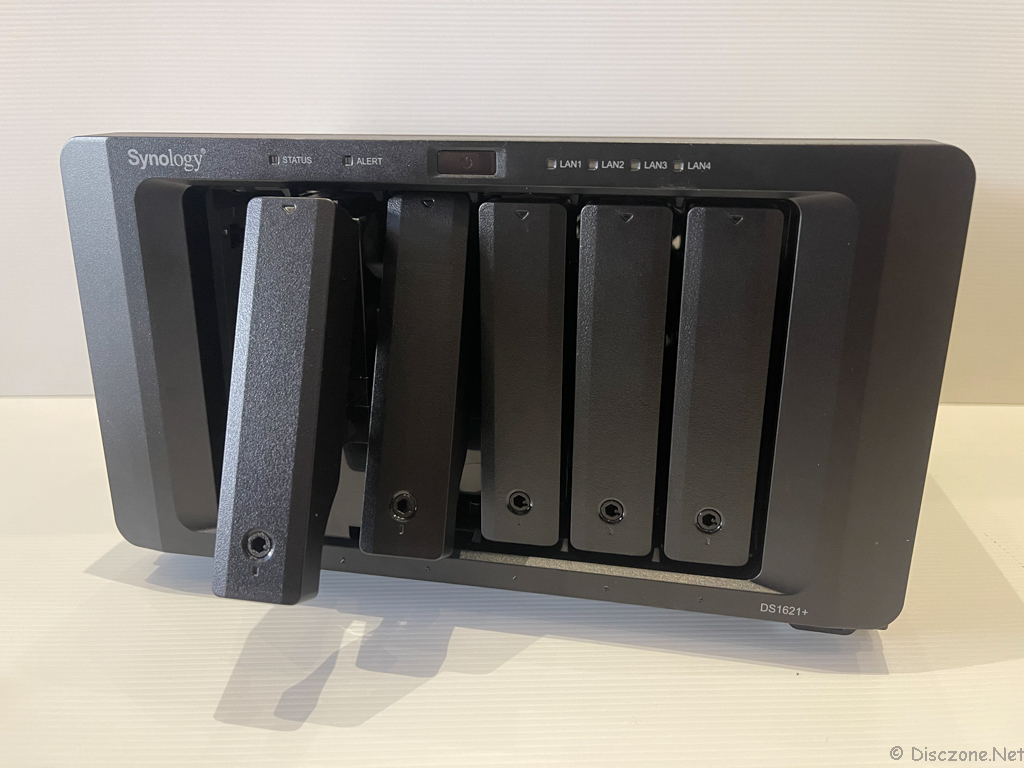 The HDD enclosures are still the same design, just push the bottom part and the handle will pop out for the enclosure to be pulled out.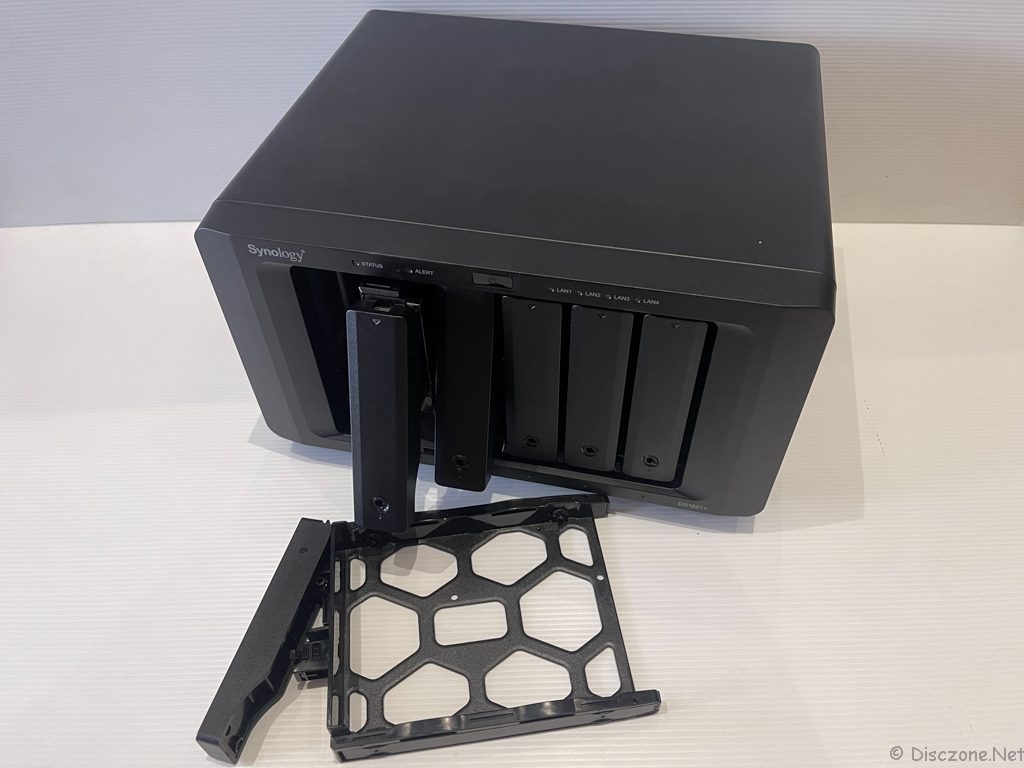 The HDD enclosures are toolless and do not require screws for 3.5 inch HDDs to be installed.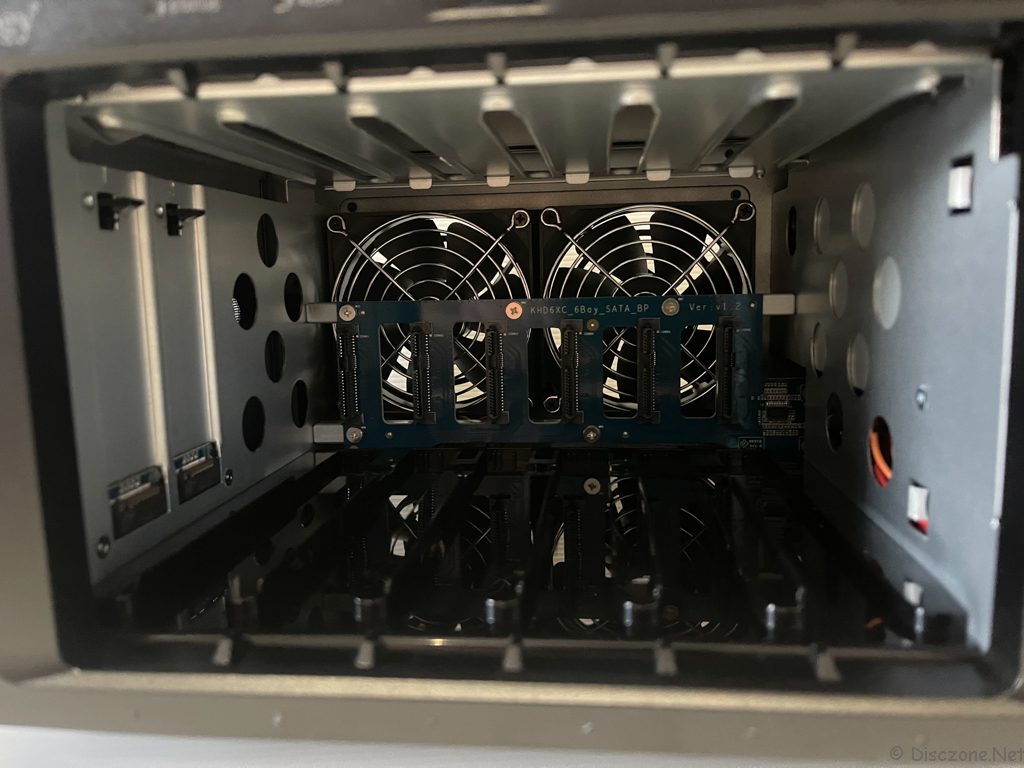 How the inside of the Synology DiskStation DS1621+ looks like.
2 x NVMe slots on the left side of the DS1621+ for the additional cache.
See all the SATA2 and power ports right inside the Synology DiskStation DS1621+?
They have moved the location of memory expansion slots to the bottom of the DS1621+.  I'll cover this subsequently in another blog post.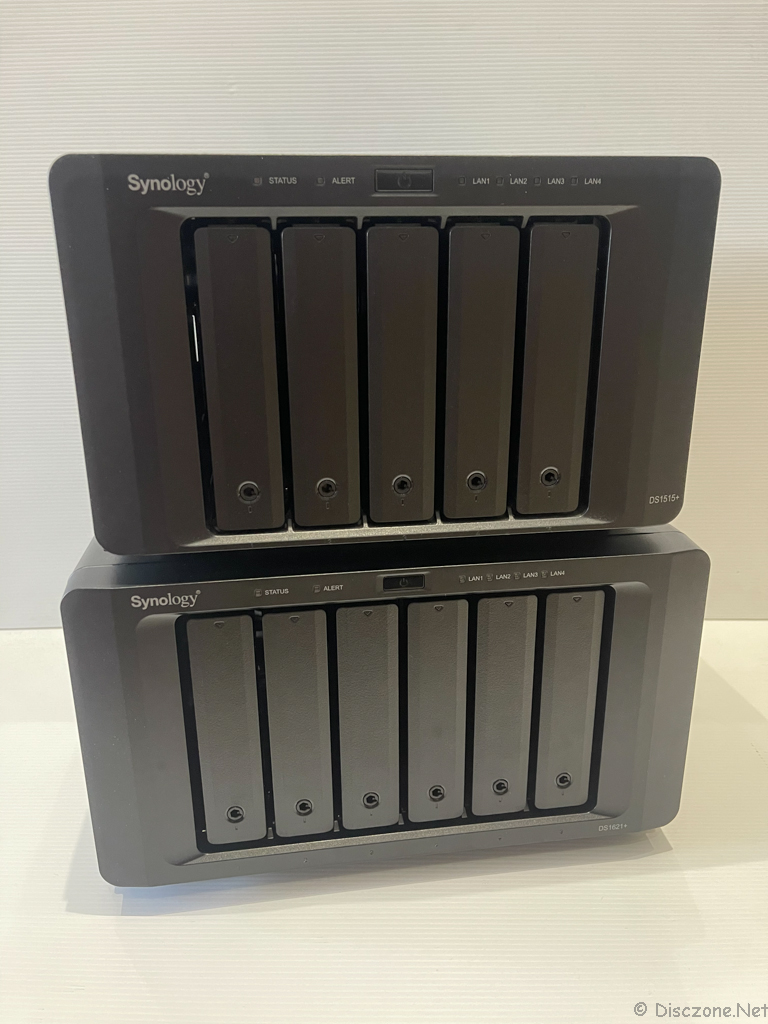 Stacking the Synology DiskStation DS1515+ on top of the DS1621+.
The size difference looks more apparent from this view.