Synology DiskStation Manager or DSM 7.0 was finally released on 29th June 2021.  Synology announced DSM 7.0 about three years ago (we are in 2021 at the time of writing), and finally, we are getting our hand on it.  According to Synology, DSM. 7.0 is their largest update yet on the DSM software suite, with a brand new user interface and a complete overhaul of the subsystems in DSM.  However, DSM 7.0 only be available for XS, SA, and FS series devices only in the second half of 2021 as these series are the business and data center range of Synology's products.  Similarly, as per my last blog on the migration of NAS, I would like to remind all readers that they MUST BACKUP THEIR NAS CONTENT AND SETTINGS PRIOR TO DSM UPGRADING.  Ok, let's take a quick look at some of the new key features of DSM 7.0 that caught my eyes before jumping into the upgrading process.
New Features of DSM 7.0
As DSM 7.0 is a big upgrade, the new features can be grouped into big categories including Storage Tools, Management, Security, Hybrid Cloud, and Business Functions (such as data protection and service continuity).  For home, Prosumers (like myself) and SMEs users, the new features in the first three categories (Storage Tools, Management and Security) may be more relevant whereas, for Business and Enterprise users, the next two categories (Hybrid Cloud and Business Functions) will be critical to determine how you can take your business to the next level with DSM 7.0.  As the features from each category are really a lot, let me try to list and highlight some that caught my eye and interest.
Storage Tools

New Storage Manager :

Redesigned user interface – All information that the System Admin needs available at one glance.  The new layout is clean and more graphical with clear information on drives, their status, and configurations.  (I will cover some of these later.)
Space Reclamation Scheduler – Ability to schedule periodic jobs during off-peak hours to reclaim storage space from deleted files, folders, snapshots, and LUNs.  These reclamation activities are I/O intensive and should only be done during silent hours.
Replace Drive, Auto Replacement, Fast Repair, and Auto Repair – Suite of drive tools to prevent storage degradation and to repair the storage pool faster, more efficiently, and automatically.

Fibre Channel Support: PCIe slot to support Fibre Interface Cards for enterprise storage usage.
SSD Cache Metadata Pinning: BTRFS metadata pinning for SSD cache can be activated to improve the performance of browsing and deleting small files.
Peta Volume Support (Coming Soon!): Ability to create 1Petabyte (PB) volumes (up from the previous 200TB).

Management and Security

Synology Drive Admin Console :

Overview of connected devices and status, Files access and usage, and Storage status and utilization.
Scheduling of indexing activities.

Administrative Role. Delegation: Ability to delegate specific admin roles to users without giving full admin rights.  Roles include Account (Local, Directory, and Groups), Data (Shared Folders and Permissions), Connection (Block Lists, Protected Accounts, and Clients), System (Package Management, Application privileges), and Backup (Manage Hyper Backup).
Shared Folder Permission Tracking and Exporting :

Ability to better log and monitor permission changes
Exporting for backup.

Opened Files Connection Termination: Kill opened files connections (SMB, AFP, FTP, SFTP, Telnet, and SSH protocols) more easily.

Security

Improved Authentication Features (Will try to cover this portion in detail in a separate blog)

From 1FA to passwordless to multi FA
Synology Secure SignIn App – Software Token and Internet access of Synology Devices
FIDO2 Login – Hardware Token for Internet and local Intranet access of Synology Devices (I'm waiting for my YubiKey to arrive to test this out.)

DSM Update now supports automatic updates only for Critical Issues

Hybrid Cloud

Synology Hybrid Share (Still in Beta)

Streamlined User Experience between on premium Synology NAS and Synology C2 cloud with Synology C2 Portal
Local cache for faster data access.
AES-256 Data Encryption for Data in Transit and Data at Rest (on Cloud)

Active Insight (Still in Beta)

24/7 Centralized cloud-based monitoring across multiple Synology devices over multi-sites.
Active Insight Mobile App that allows and on-the-move access and information for any events, reports, or notifications from Synology devices.
Some features may be chargeable when available.

Business Functions

Extended Data Protection

Active Backup for Business now supports Linux bare-metal backup (ext2,3,4 and XFS) via command-line interface
Support for incremental backup using tracking changed blocks (CBT) to increase storage efficiency for global duplication

Improved Service Continuity

Hyper Backup now supports more DSM packages including Synology Drive, Cloud Sync, USB Copy, etc
Automatic DSM configuration backup into Synology Account.
With these exciting features in the list, let us take a closer look at the process of upgrading my Synology DiskStation DS918+ to DSM 7.0 and how some of the new features look like in real life.
While the DSM 7.0 Beta and Release Candidate are out for a while already, I have not had the chance to give it a try till the actual product was available.  I chose to upgrade the DSM 7.0 on my Synology DiskStation DS918+ first as it has been recently backup into my new Synology DiskStation DS1621+.  Hence, all I need to do is to back up the configuration of the Synology DiskStation DS918+, check the Package Centre that all applications are updated to the latest copy, I'm ready to go with DSM7.0.  When I tried to use the "Update and Restore" function in the DSM 6.2.4 Control Panel to perform the DSM 7.0 upgrade, it tells me that I'm already running the latest version of DSM and there are no further versions to upgrade to.  Nevertheless, I went back to the Synology website and check the support site and info for Synology DiskStation DS918+.
Release Notes for DSM 7.0 for DS918+.  There are a few minor version updates after I posted this blog.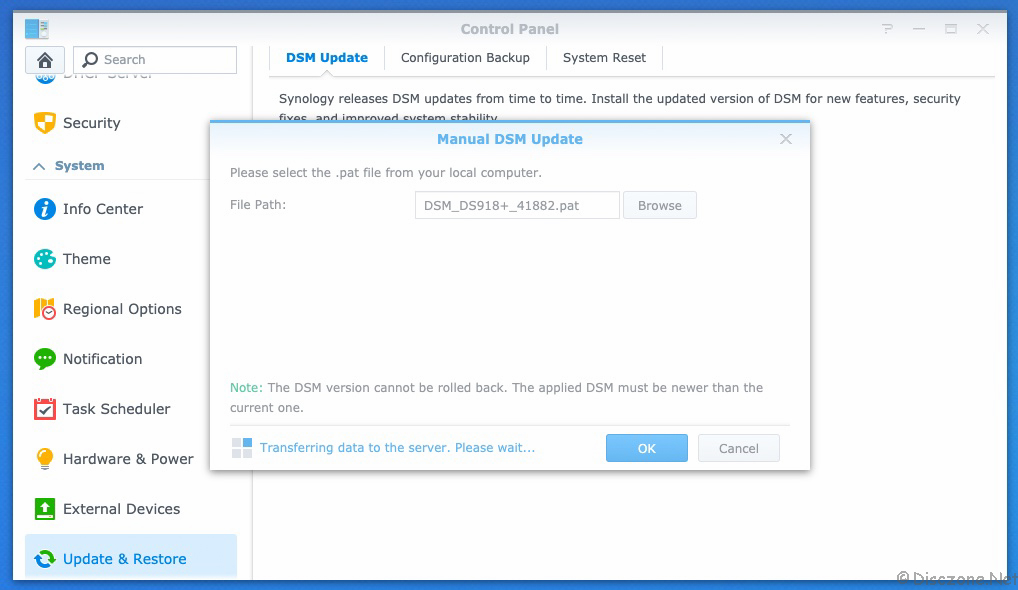 As auto-upgrade to DSM 7.0 is not available, I have to download the "pat" file from the Synology update site and load it into the DS918+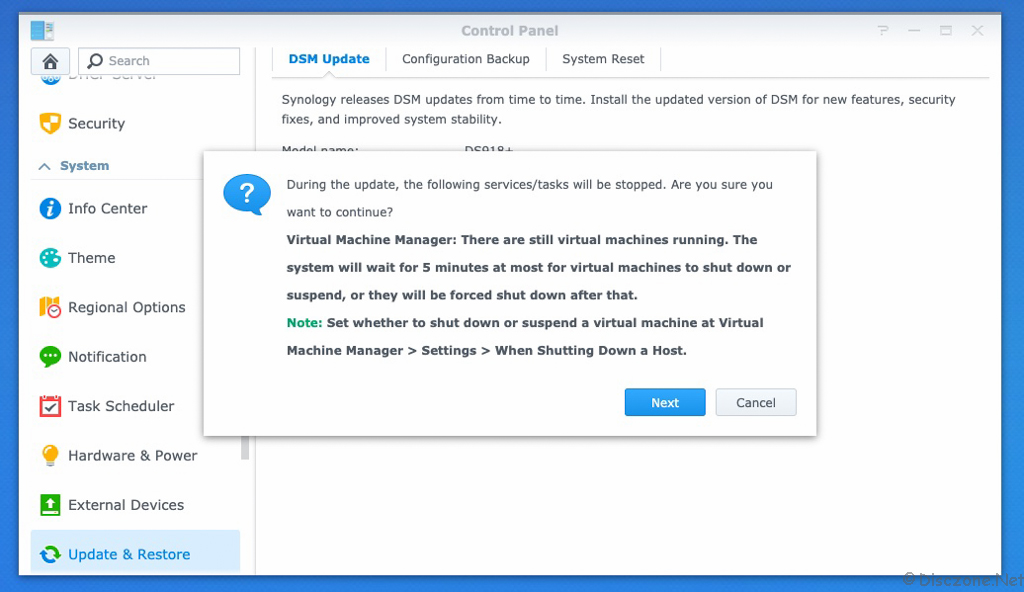 It detects that my Virtual Machine Machine is still running and have to be stopped first before the upgrade.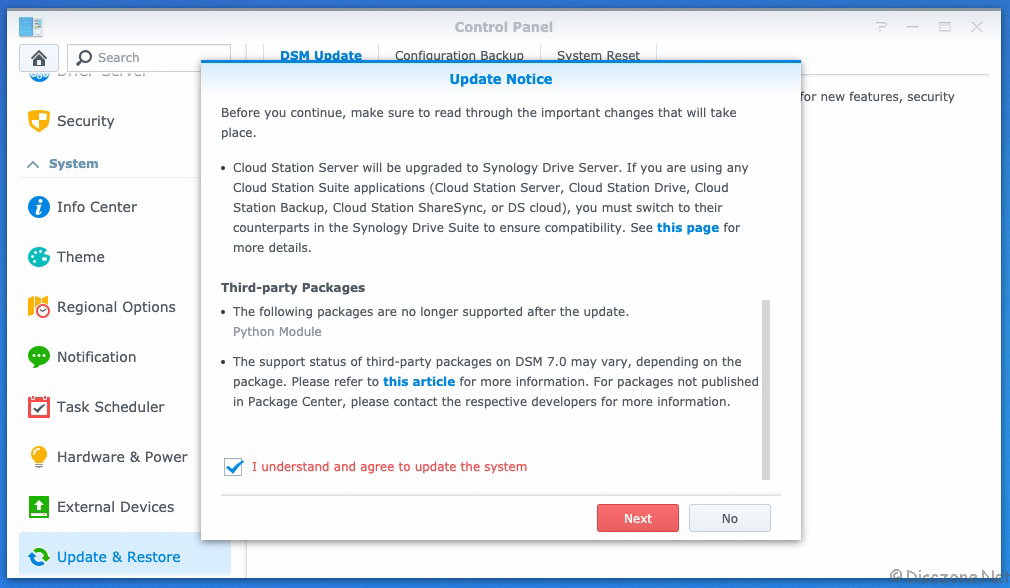 Some Third-Party Packages (Python in this case) will not be supported in DSM 7.0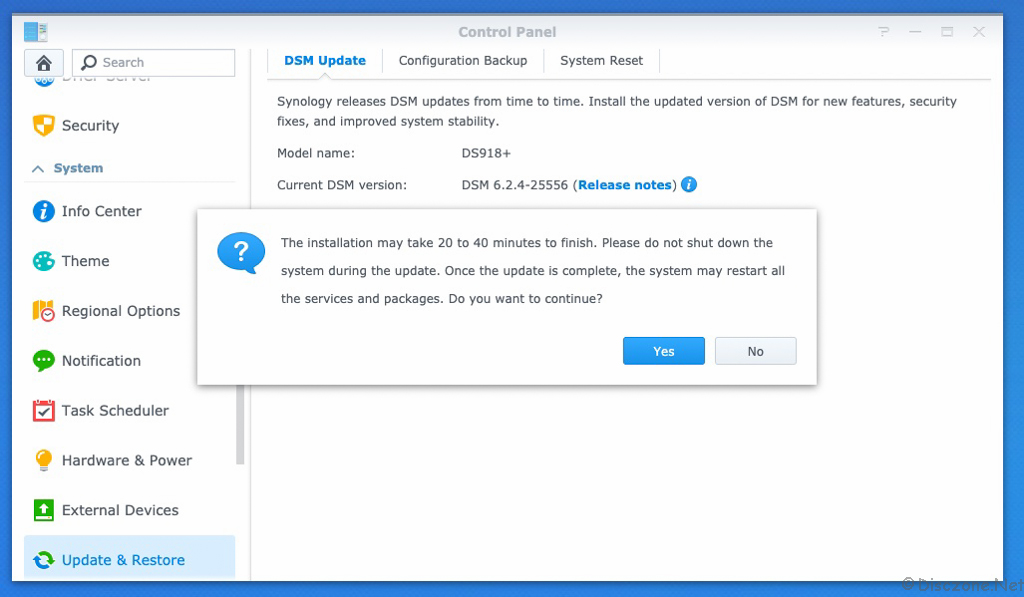 The upgrade to DSM 7.0 will take 20 to 40 minutes to complete.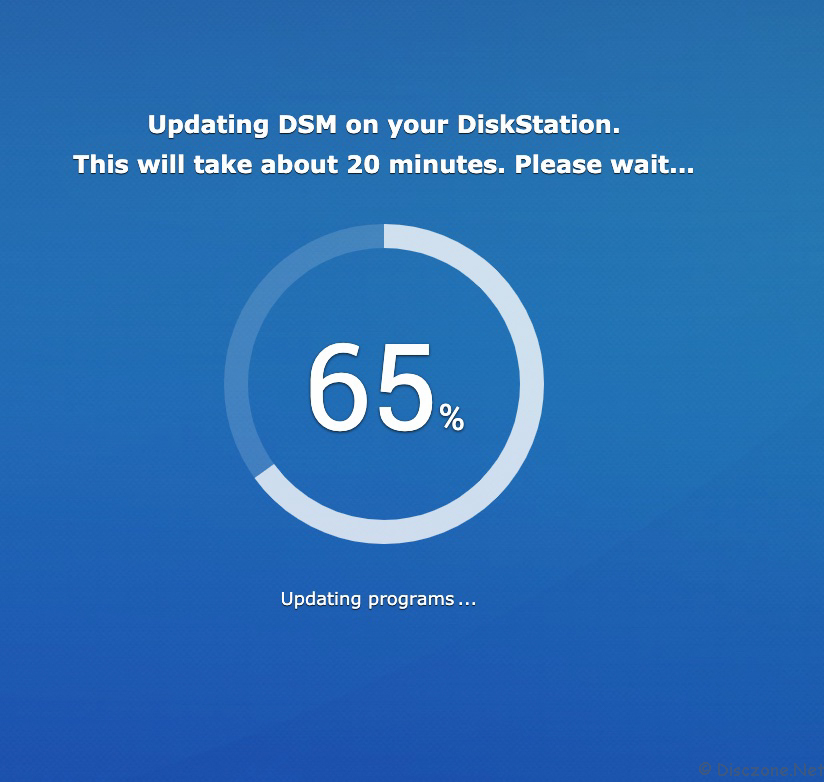 Updating core programs of DSM 7.0 first.
Preparing for rebooting.
More updating of the DSM 7.0 core programs upon reboot.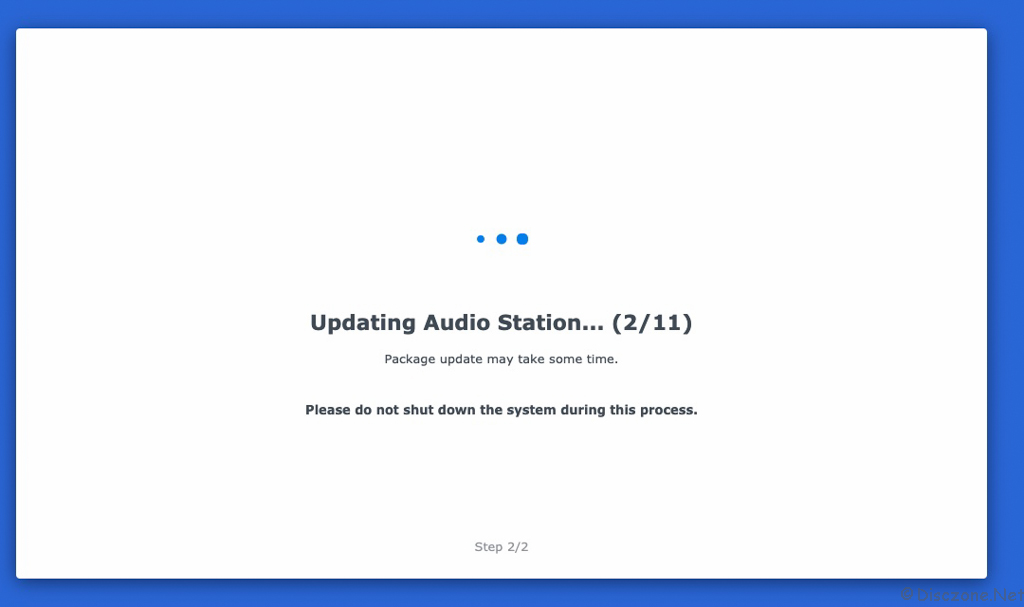 Packages will also need to be upgraded.
Finally upgrade is completed and the new login screen of DSM 7.0 is presented.  Note that now the username and password are 2 separate screens.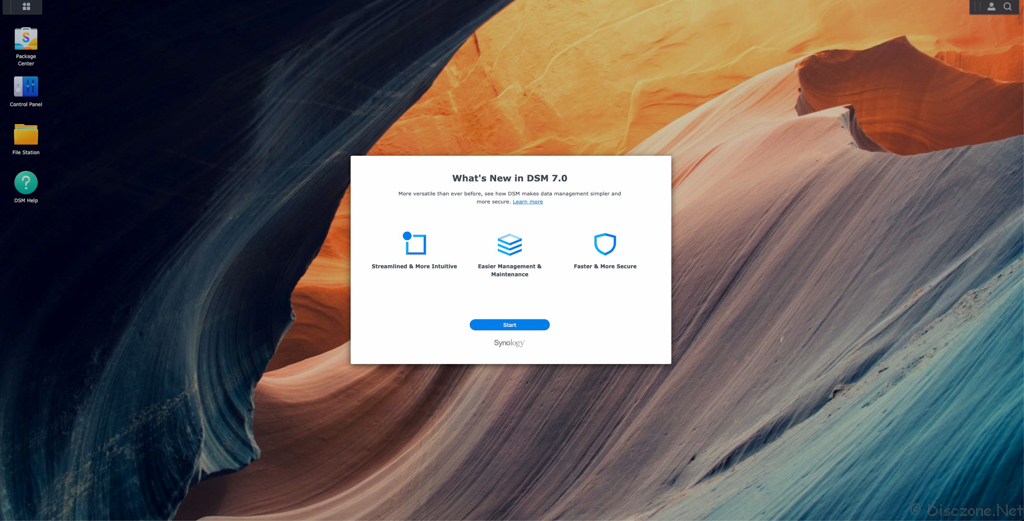 Prompt on what's new in DSM 7.0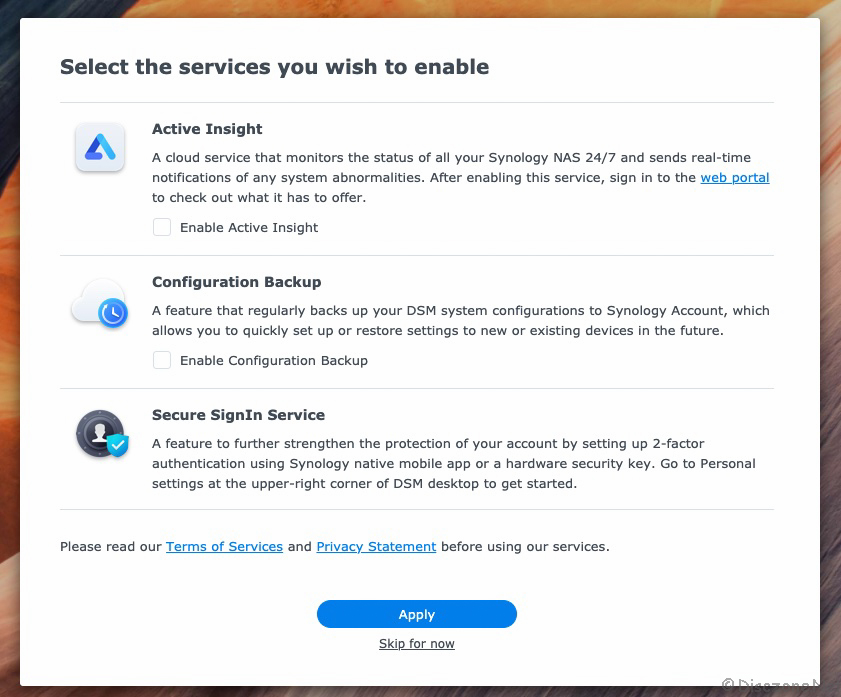 You can also configure the new settings of the 3 new services (Active Insight, Configuration Backup, and Secure SignIn Service).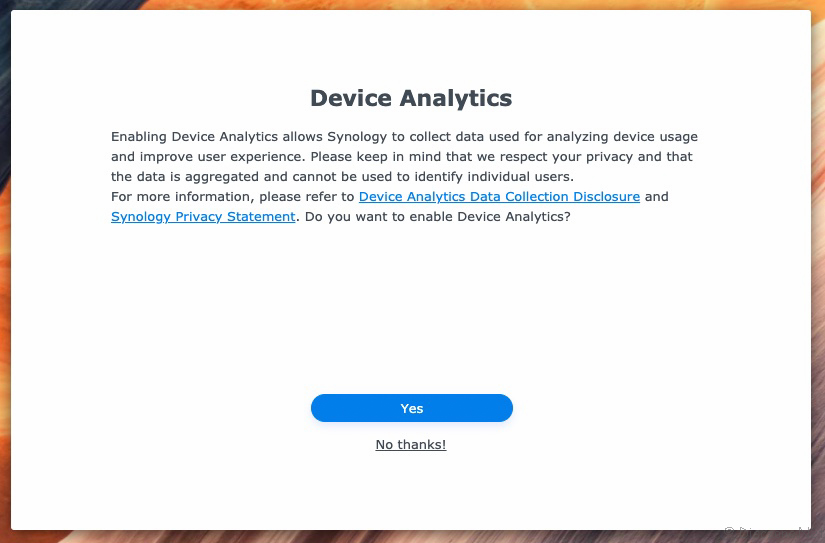 You can also opt-in or out to Synology's data collection for device analytics.  If you don't feel comfortable with this, just click "No Thanks!"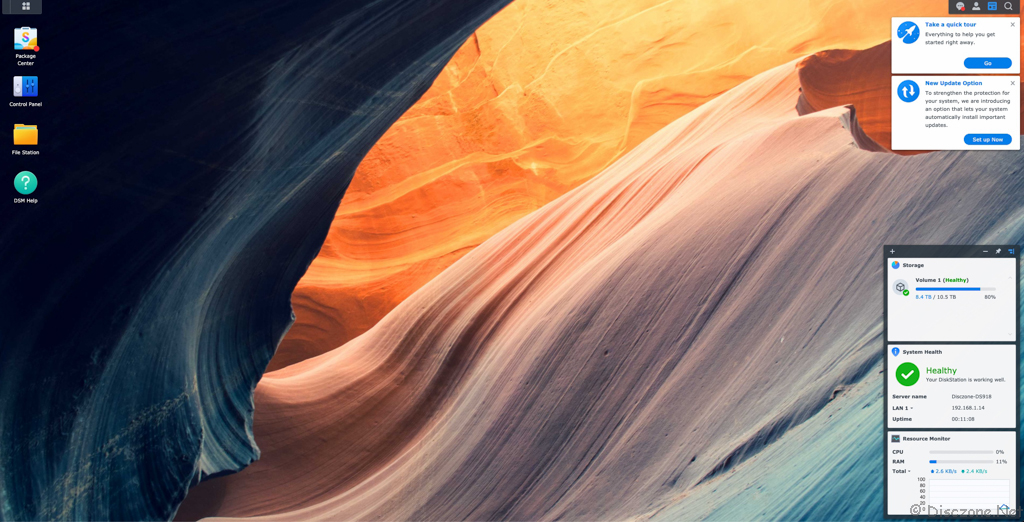 Finally! The new desktop view of DSM 7.0.  You can take a quick tour of DSM 7.0 by clicking on the prompts in the top right corner.   Also, I can't help noticing that DSM 7.0 seems to be more responsive and loads faster than the older DSM 6.2.4.
You will be prompted to update the "Update Option" as now you can choose to automatically install "critical or important" updates.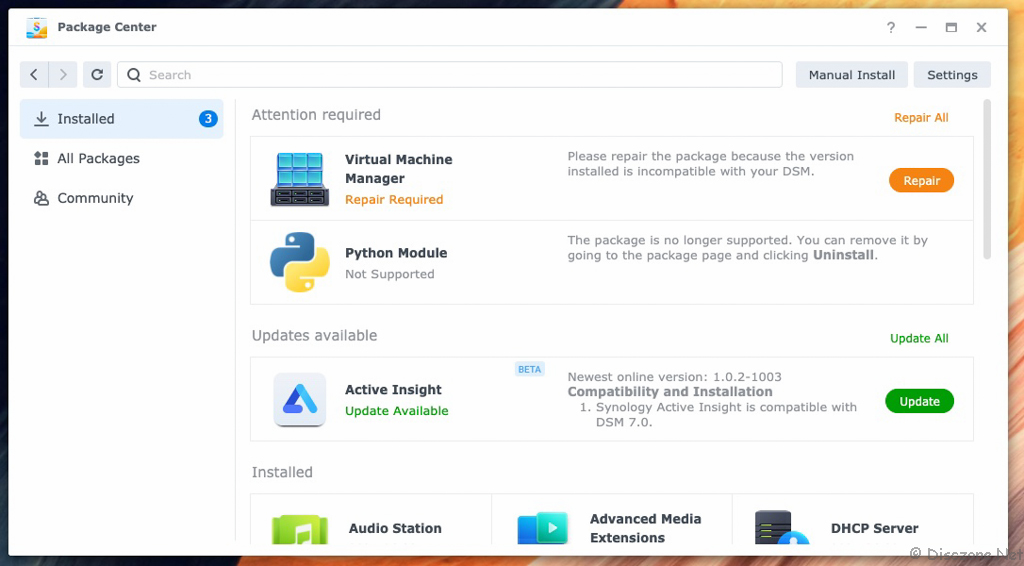 In the Package Centre, the layout has been updated too.  The top portion that usually recommends packages you may need is now gone, making the whole layout more clean and neat.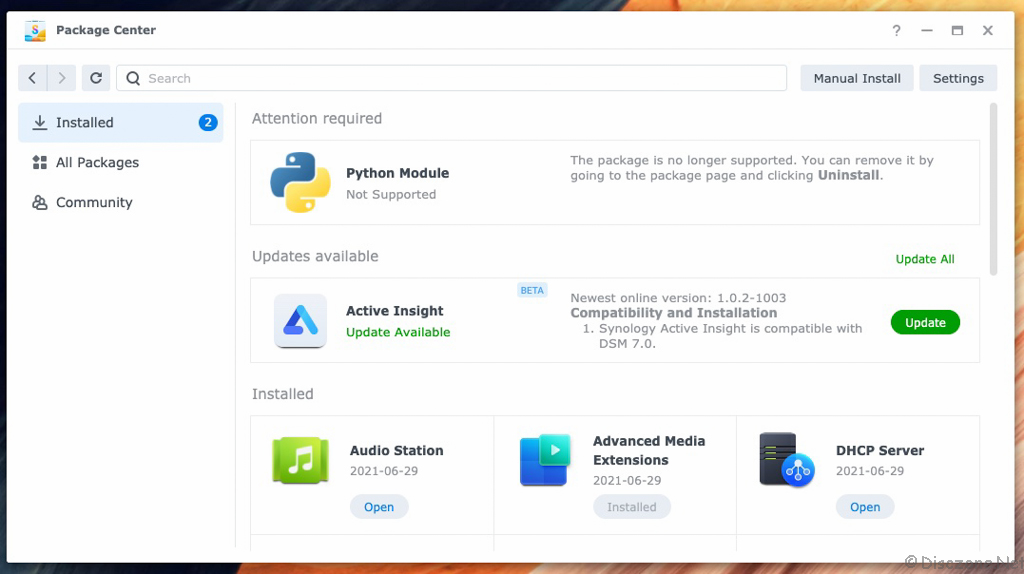 The Virtual Machine Manager and Active Insight need updating while the Python Module is not supported.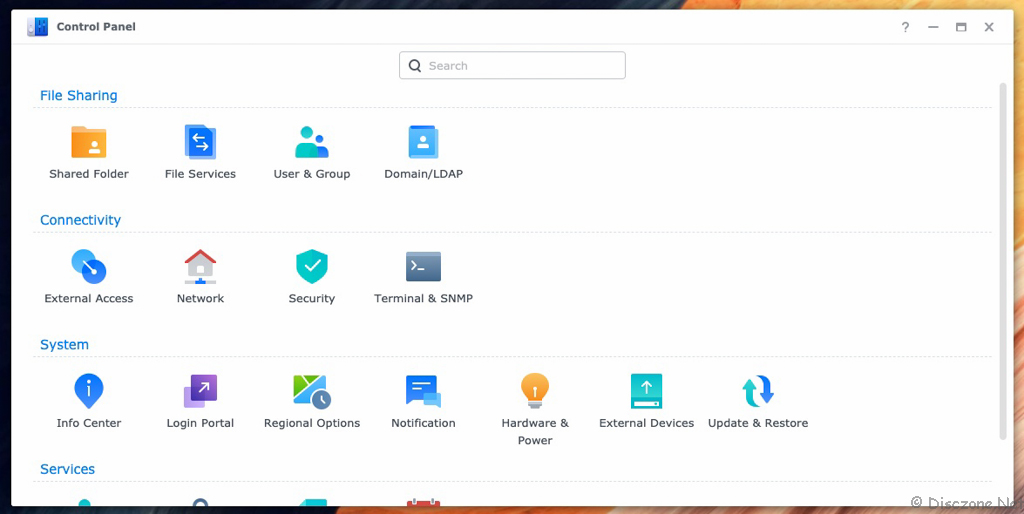 The Control Panel is updated with the new icons too!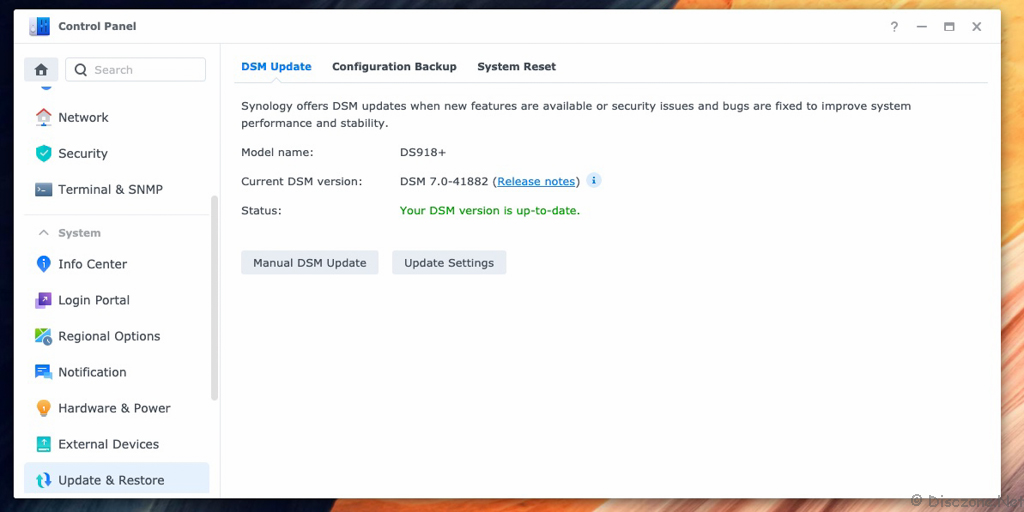 Confirming that DSM 7.0 upgrade is completed!
Info Center showing all the information regarding my Synology DiskStation DS918+.
Docker still looks the same.  My Apps that are running on Docker are all working fine.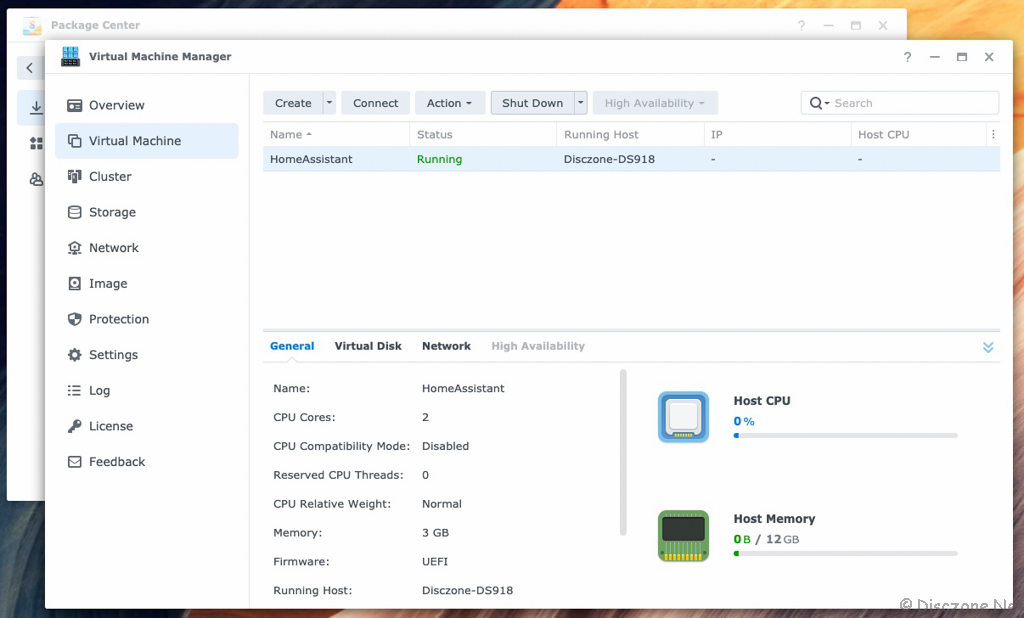 The HomeAssistant VM running on Virtual Manager Manager is running fine too.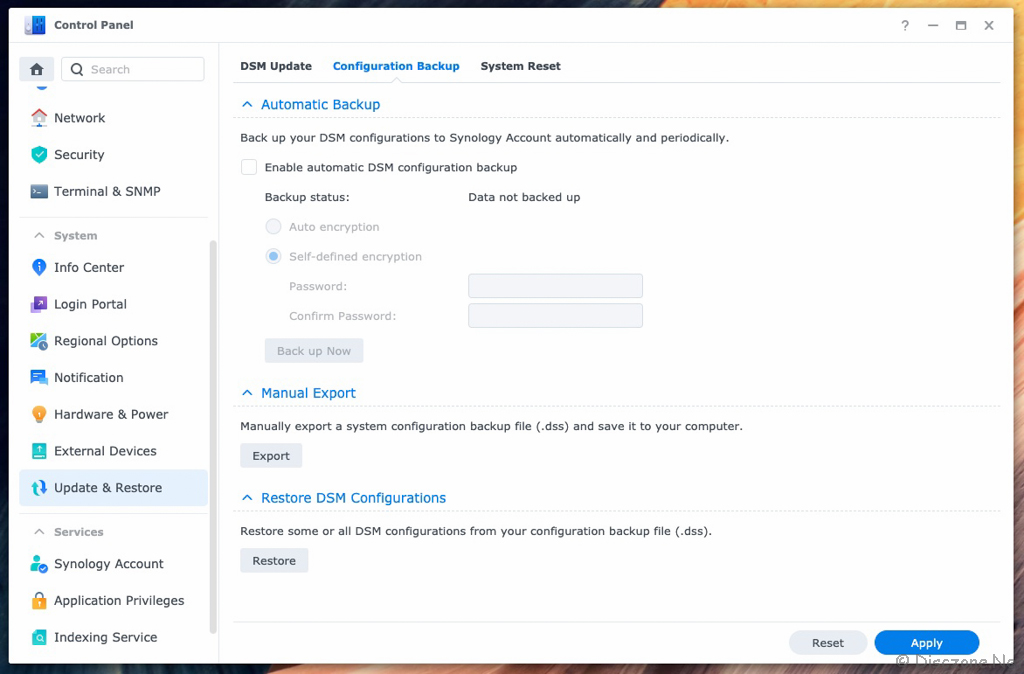 Don't forget to backup the configuration after the successful upgrade to DSM 7.0
The new DSM 7.0 offers new login options including Passwordless and 2-Factor Authentication (2FA).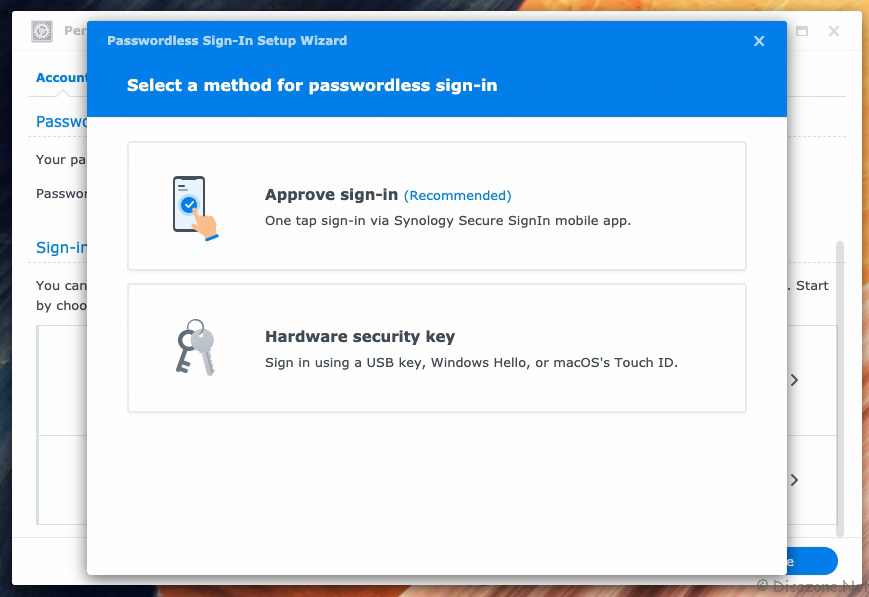 Passwordless option recommends the use of Synology Secure SignIn mobile App although it also integrates with other options like Hardware USB key, Windows Hello, or macOS Touch ID.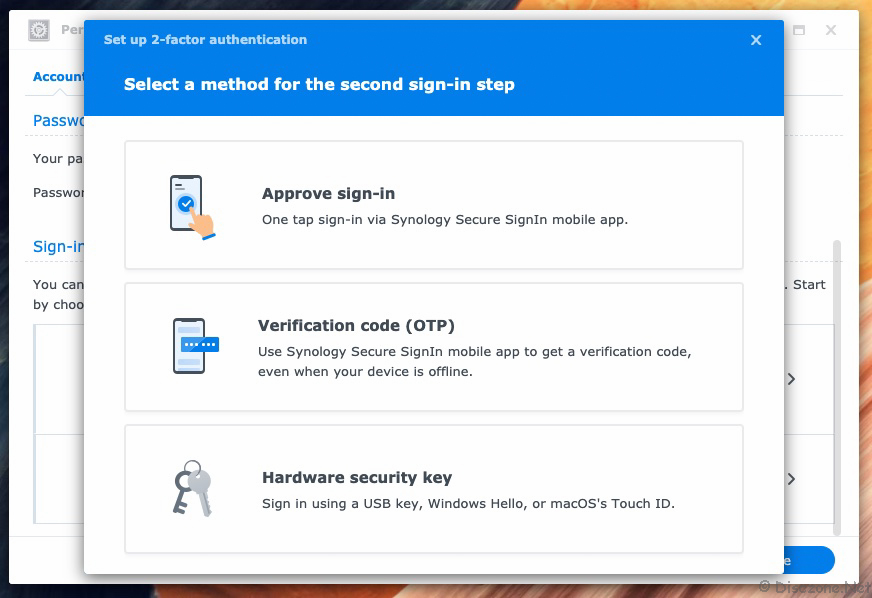 For 2FA login, there is the additional option of OTP using the Synology Secure Sign In mobile App.  I'll test this in more detail when I get my USB key.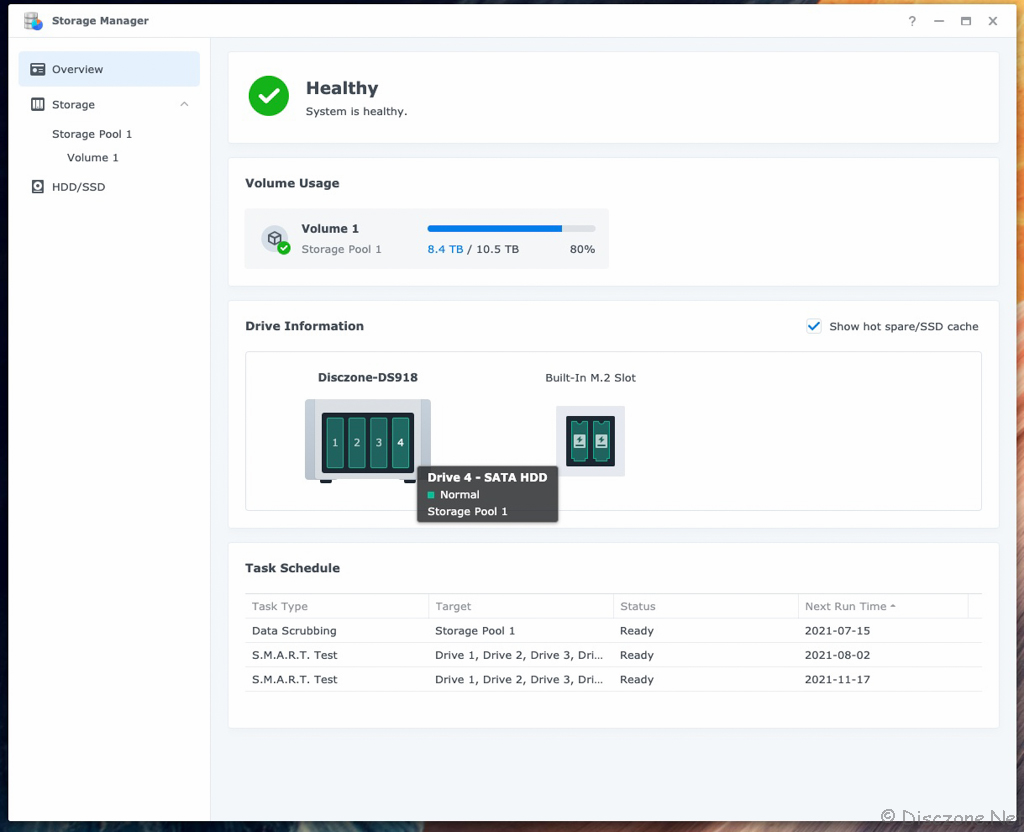 The new Storage Manager comes with a clean and lean user interface that provides an overview at one glance.  You can also mouse over the new graphical interface of the drives to get more information about them.

Similarly, the Storage view provides information on your storage pool, storage volume, and SSD cache as well.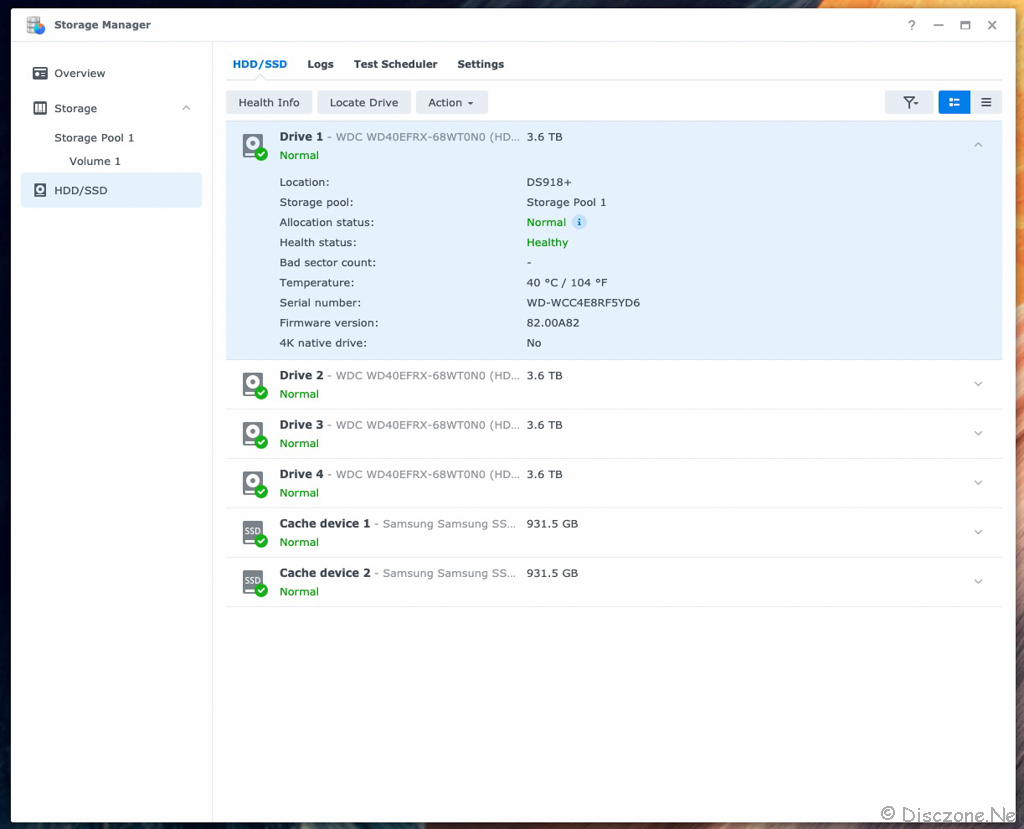 Moving on, the HDD/SSD view gives all the details on your HDD and SSD drives in the NAS.
Some new features in the Storage Manager include Replace Drive, Auto Replacement, Fast Repair, and Auto Repair.  They are a suite of drive tools to prevent storage degradation and to repair the storage pool faster, more efficiently, and automatically.
DSM 7.0 also allows more detailed scheduling of space reclamation jobs.
DSM 7.0 also has a renamed SAN Manager (from iSCSI Manager) and support for Fibre Channel (FC) connectivity.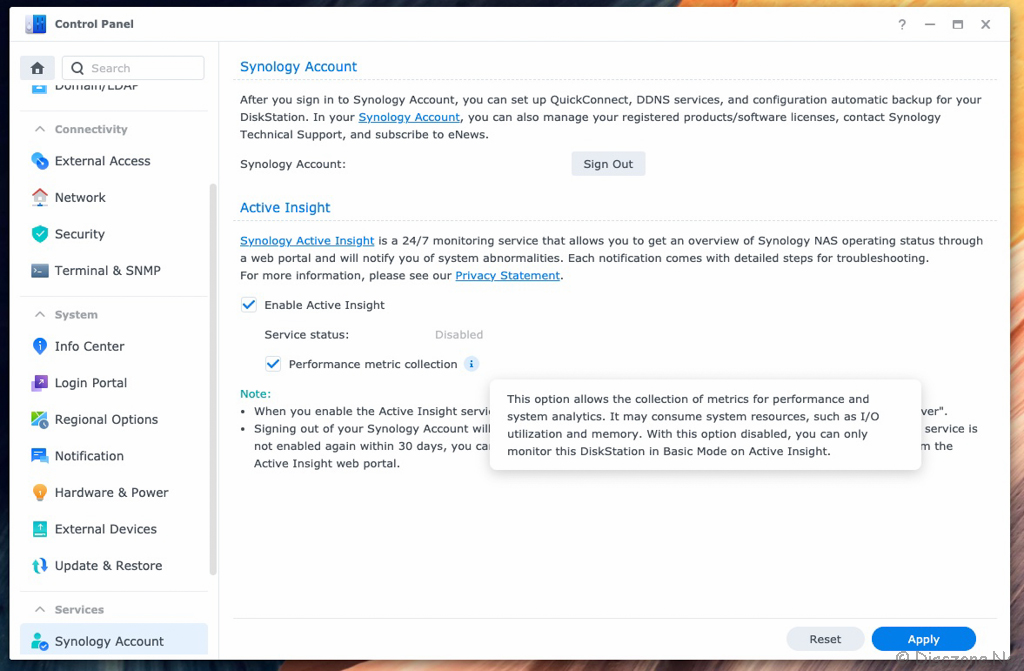 Active Insight is also a new feature of DSM 7.0 that is still in beta.  To use it, you will need to first enable it in Control Panel under Synology Account.
Once enabled, the NAS will automatically report to Synology status and metrics periodically.  Any events or issues with the NAS will be reported via Active Insight to you.  Active Insight can be accessed via this URL.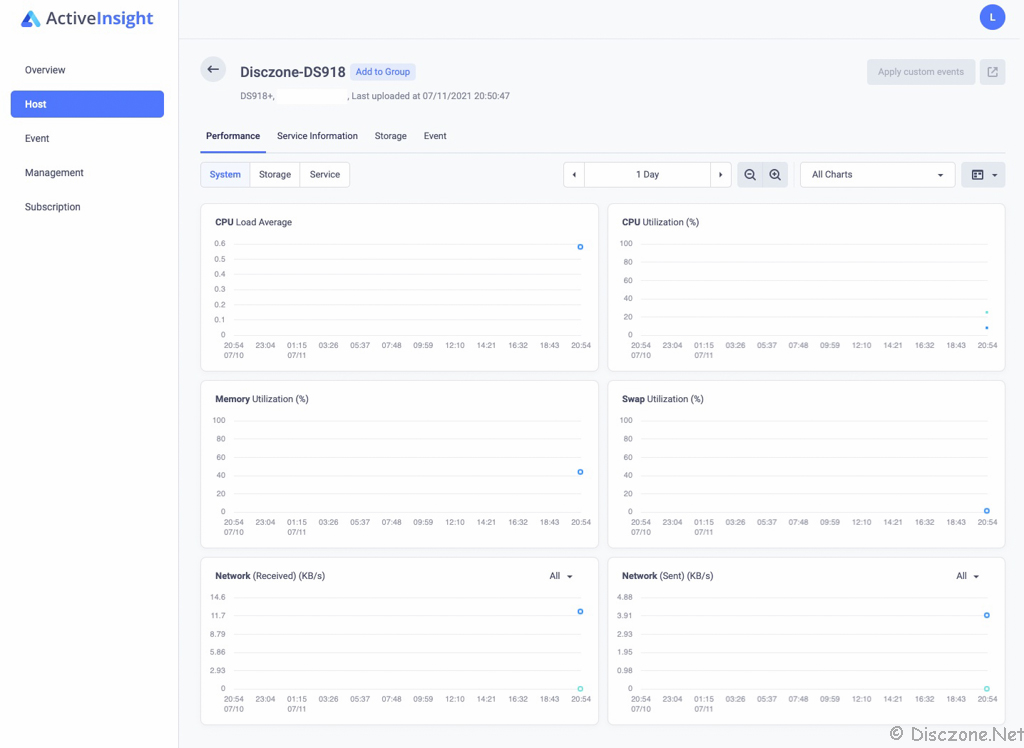 Detailed metrics such as CPU, memory, network, and storage utilisations are tracked by Active Insight.
Metrics tracked in Storage Manager are also available on Active Insight .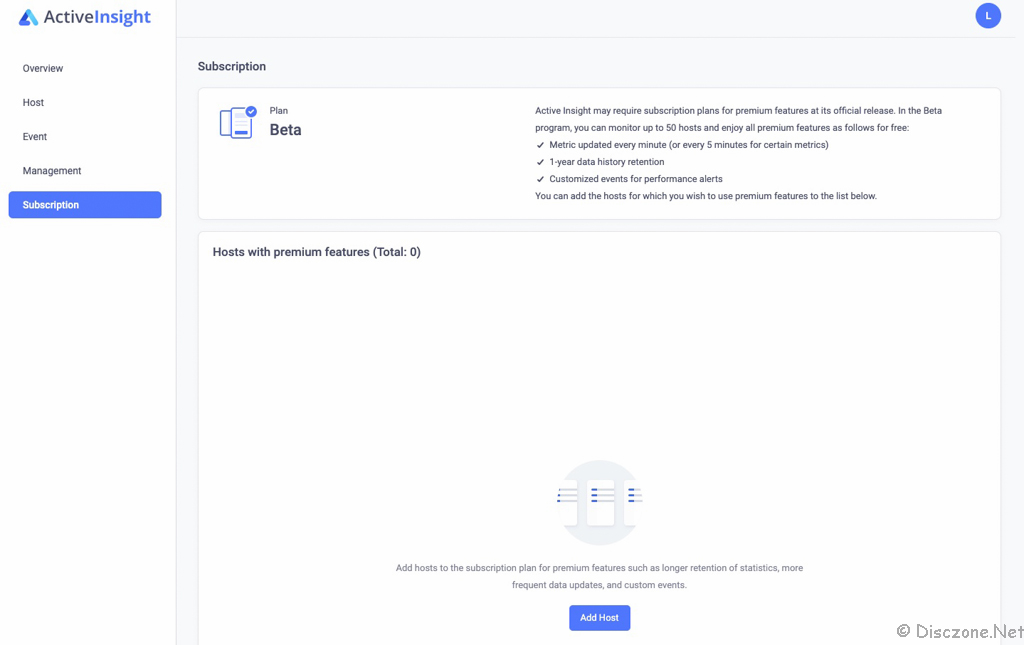 Currently, Active Insight is still in beta but looks like there will be charges for it in the future.
Conclusion
It is very exciting to see that Synology has taken the DSM product to the next level with the new release of DSM 7.0.  For me, 3 new features that I'm excited to explore more are the new Login options, the new Storage Manager, and of course Active Insight (which is still in beta).  Some may ask, do I upgrade to the DSM 7.0 immediately or should I wait?  For me, I would usually take a calibrated approach to such major upgrades/updates.  For mission-critical machines that I would need for my daily work or life, I would usually wait a couple of months before jumping in.  This is because regardless of how much testing is conducted on a new product, there are bound to be some new findings once it is open up for general availability.  However, if you have test machines or non-critical devices, you can always join in and experience firsthand the benefits and features of the new DSM 7.0.  But once again, like what I mentioned at the start of this blog, always remember to back up a copy of your critical information and settings before upgrades or migrations.  I strongly encourage you to give DSM 7.0 a try if you can!  Share notes in the comments below if you face any issues or have comments about DSM 7.0.