Thanxs for Bros that the HWZ Lego Threads for pointing out that Bricksworld Singapore has just updated their new product ranges for the upcoming months till Nov 2011.  Luckily, this time round the focus are on the Kingdom and Alantis range with some minor new releases from the creator series.  Looking at them, those I would be looking out for includes the following,
So far I've been collecting all the "cars" in the Creator series.  Although this looks pretty much the same as the black convertible, think I'll just get it to make the series complete.  This is coming in July 2011 🙂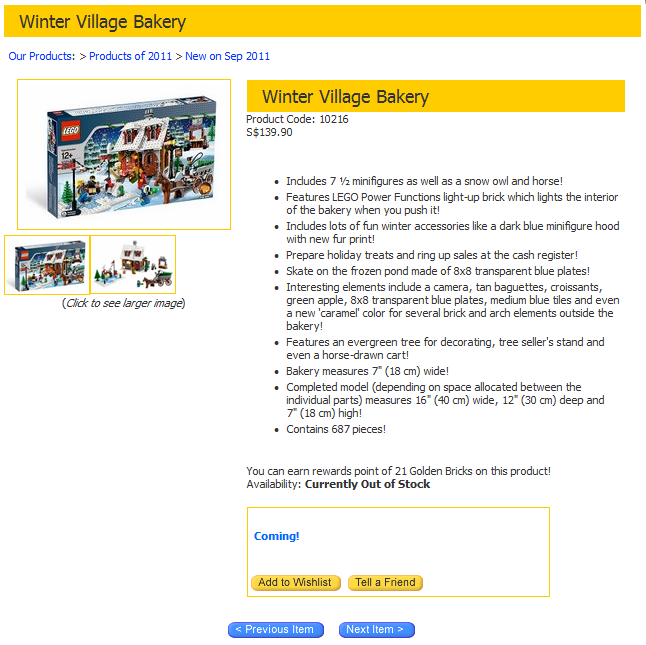 This Winter Village Bakery looks very much like the LEGO Creator Winter Toy Shop that I have now.  Maybe can get a set to see if can do some MOC. This is available in Sep 2011.
For Star Wars Series, the only set to be released in Aug 2011 is the Naboo StarFighter.  This set looks interesting with the unusual Naboo Fighter itself and also the lower than expected price.  Think will just get it to complete my Star Wars series collection. :p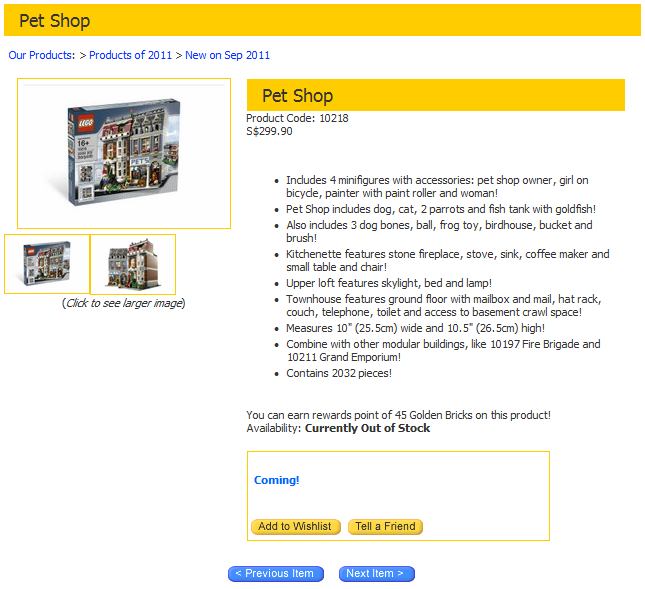 Bricksworld will also be bringing in the 10218 Pet Shop in Sep 2011.  What surprises me is actually the price, taking into account that I pay S$285 for it just last month at ToyStation.  With members discount, a set now would cost only around S$270.  Was thinking to wait till Feb 2012 for the annual Bricksworld 20% storewide discount and get another set of this to keep then I can open up the current set, which has some creases on the box due to shipping, to be assembled.
The most exciting release I would say for these few month could most likely be the availablity of the MiniFig Series 5 next month.  However, true to the rumours, the price for each pack has went up to S$4.50 instead of the S$3.90.  Anyway, I'm still hoping that Bricksworld will have a 20% discount for pre-orders and I'll just get a box of it as usual. 
The review of this series by WhiteFang is already available at Eurobrick.  Looks like should be able to get 3 complete sets with each box.  Much better than the Series 4 which comes only with 2 complete sets.