Last week, I received an email from Synology, annoucing that the latest beta version of their flagship network video recorder (NVR) application, the Synology Surveillance Station 8.0 is now available.    For those who knows me, already know that I got quite a number of IP Cameras at home.  Usually, I just use the native apps provided by the IP Cameras' OEM to do view the footages, meaning I would usually need to transverse across multiple apps just to see the entire situation.  I've always been wanting to test out the Synology Surveillance Station since I have Synology NAS at home too.  So the release of the beta provided a good reason to check out this interesting product.
According to Synology.com, the Synology Surveillance Station 8 beta comes with the following new and exciting features:
Surveillance Station Client: enjoy two times faster live view and timeline launching with smoother live view experience, and be free from browser limitations.
Multiple Streaming: Supporting automatic and manual resolution adjustment based on the size of the monitoring window or event (DPI scaling in which the size of fonts and icons on the user interface will be adjusted automatically), saving users bandwidth consumption (Can save up to 85% of bandwidth by scaling 1080p streams down to 480p) when prospecting multiple channels.
Advanced action rule: More advanced action rules and events are supported to further automate the surveillance system.
Automatic failover: allows intact surveillance structure with minimized downtime, less required servers, and lower threshold on cost and management.
New Codecs: now supports new H.265 codec, enabling more supported cameras for users to choose from while providing both live view and recording by consuming at least 25% less bandwidth2with faster streaming experience.
But before that, let's quickly run through the installation and setup of the Synology Surveillance Station 8.0 beta.  As this is a beta application, you will need to enable the inclusion of beta version in the Package Centre of DSM.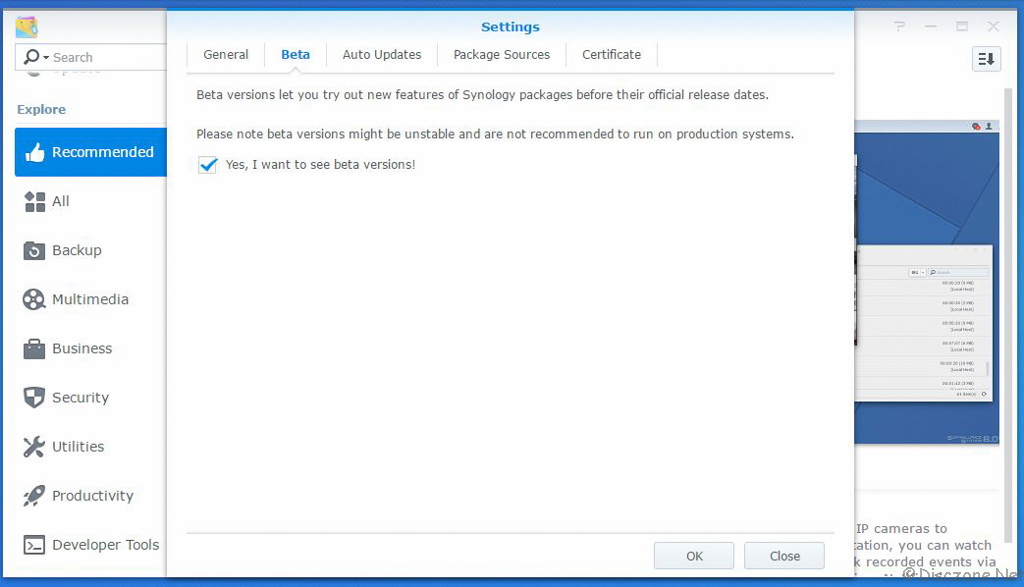 Once, the setting is applied, you should be able to see and install the Synology Surveillance Station 8.0 beta version.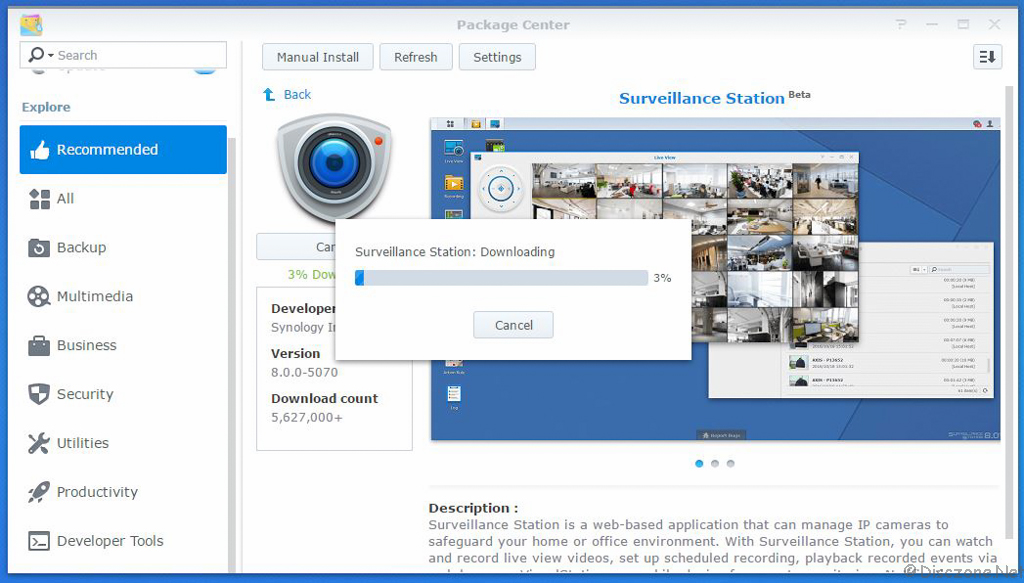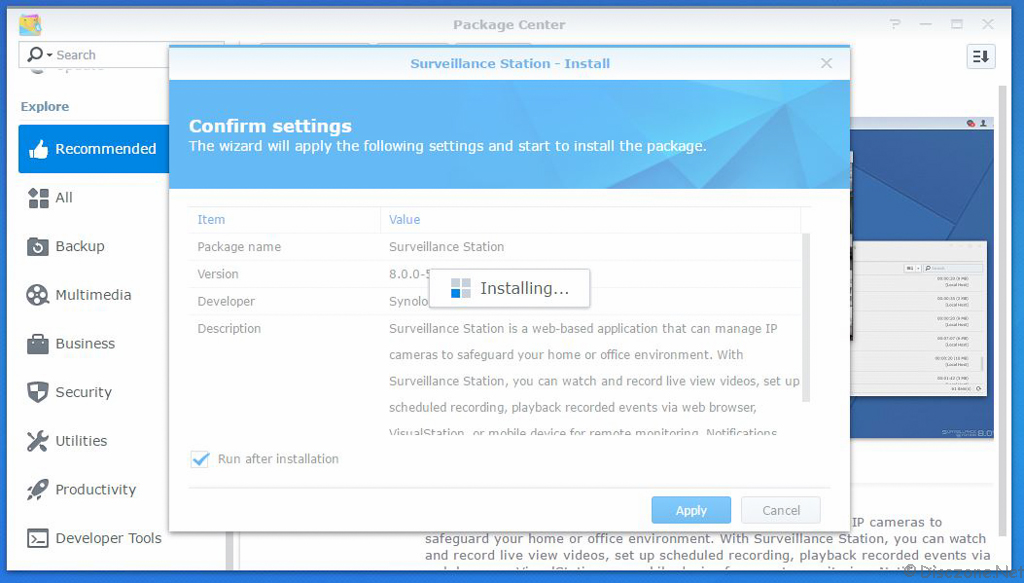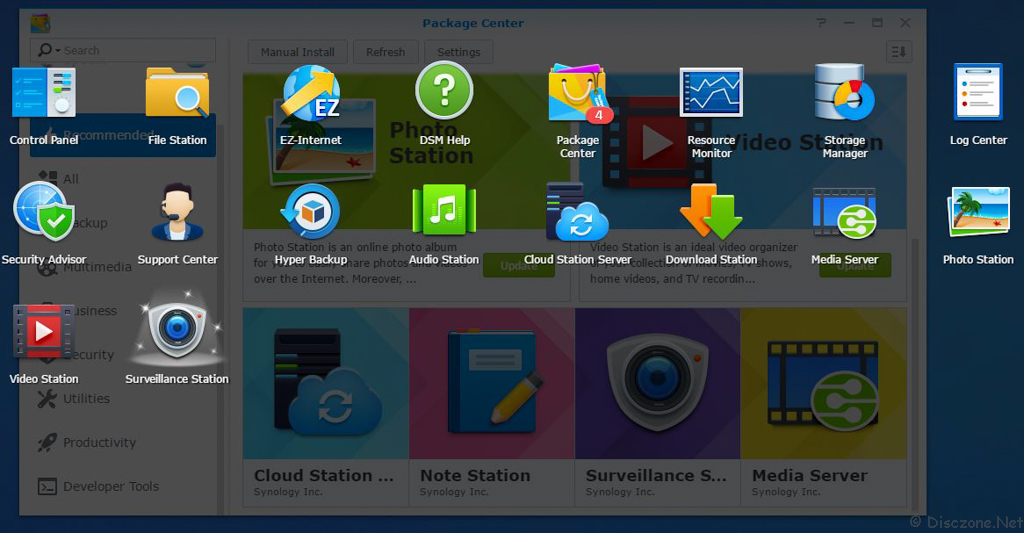 All Synology NAS comes with a 2 camera license for Surveillance Station for free.  This is actually an upgrade over the inital single free camera license when I first started using Synology products back in early 2000s.  The number of cameras supported by Synology Surveillance Station is dependent on the model of the NAS as well.  You can try the NVR Selector on the Synology website to see which NAS or NVR best suits your need.
For the review, I setup the Surveillance Station in my Synology Disk Station 2-Bay DS216play and configured 2 IP Cameras, 1 Foscam and 1 SMC in it.  I tested with these 2 cameras as they are more than 3 years old and yet Synology Surveillance Station surprised me by still being able to find them within the Synology Surveillance Station's IP Camera Database.
For a 2 camera with 640×480 resolution recording, the network load on the  Synology DS216play is pretty lean at about 300+KB/s.
Clicking on the Synology Surveillance Station icon in DSM will launch the Synology Surveillance Station Desktop with 5 icons in another brower window.  Less the "Help" icon, the other 4 icons are the key applications within the Synology Surveillance Station,
Besides using the brower to access the Synology Surveillance Station, this latest release (8.0) also included a Microsoft Windows client and of course, the DS Cam mobile app.  To access these, click on the Main Menu of the Synology Surveillance Station Desktop and select "Client Management"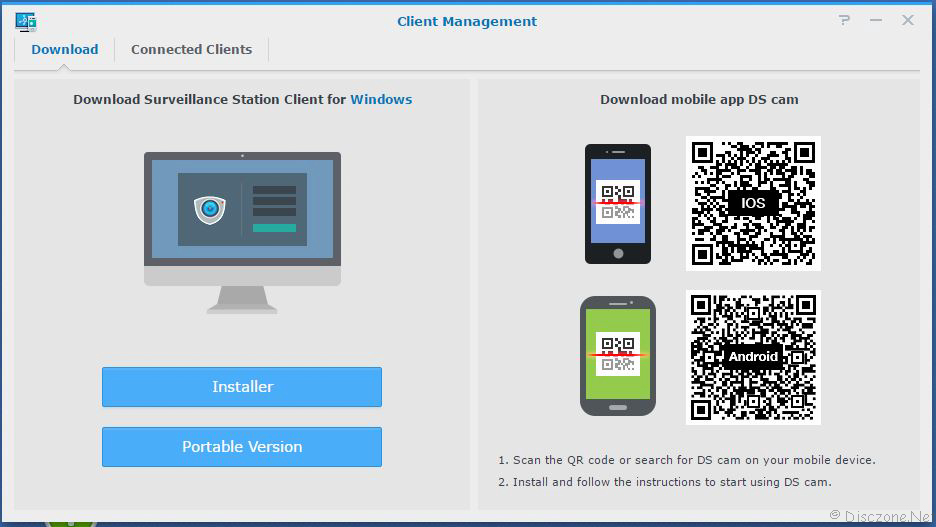 After installing the Synology Surveillance Station Client for Windows, you will be able to access the 4 applications within Synology Surveillance Station directly from your Windows Deskop
From your mobile device, you will need to download the DS Cam mobile app.  Using DS Cam, you will be able to access your camera feeds but additional features such as IP Camera configuration, Timeline, will not be available.
Conclusion
Overall, I am impressed with Synology Surveillance Station 8.0.  The setup is very straight forward for any Synology NAS user and the IP Camera Database is very rich.  For recording and monitoring purposes, the Live View and Timeline applications can beat most of the entry or even the mid-level CCTV suite out there.  The availability of multi-platform clients caters for various type of usage including deskbound or even on the move. Only setback is that the license for additional cameras for Synology Surveillance Station can be quite pricy, but hey, nothing comes free in this world.  🙂