Couple of weeks back, before BricksWorld annouced that they will be having another 20% discount for all members, I tried out this new shipping agent at www.tarazz.com to ship stuff back from Amazon.  The guys who tried it found that it is much cheaper than our usual CGW and Borderlinx.  Cant resistance my curiosity, I also gave it a try.   The procedure of buying was pretty straight forward except that I realise they will treat each item at Amazon as a individual and will not group them together.  This means that this shipping agent will not be worthwhile for shipping small items as their basic cost for shipping includes the first 3KG.
Anyway, I selected the 10211 LEGO Grand Emporium for this tryout as it is still more expensive to buy this set as compared with the other modular buildings.  The first issue I encountered was that somehow it refuse to accept the first Credit Card that I throw at it but it works with Citibank's.  Not too sure if this is a one time incident.  A day or so after the payment through, I received an email and SMS from Tarazz that my item may be oversized (more than 3KG) and ask if i still wish to proceed with the purchase.  Only that i repliedvia email telling them to go ahead that they replied the confirmed purchase.  Something I dont see with the other shipping agents.
Anyway, a week or so after that, I got another SMS and email confirming my item is oversized and the estimated shipping cost is about another S$100 or so!!!  So I asked to remove the outside packaging (something they call de-box) for a fee of S$6.60.  After that I dont hear anything from them again for about another week.  Meanwhile, the online tracking feature in Tarazz shows that my package is already on the way to Singapore although I didn't hear anything after asking them to debox.  By right, they should have confirm the weight and shipping charges after debox so that I can make the decision if still to ship it over.  Not say it's going to make any difference, knowing that I won't return the package back to Amazon, I still wrote to Tarazz on this.  Their reply was that they have yet to hear from their US counterpart on the dimensions of the package.  Werid….
Then before I know it, I got another SMS and email informing me that my shipping topup is another S$12 more and ask me if I'm ok to proceed for the delivery. :-S After sending back an email confirmation, things start going very fast.  Which 24 hrs, they email me again on the delivery timing and hey… it arrived at my doorsteps.
But the first look at the package was very worrying.  The debox process actually means that the package is only wrapped in brown paper tied up with strings!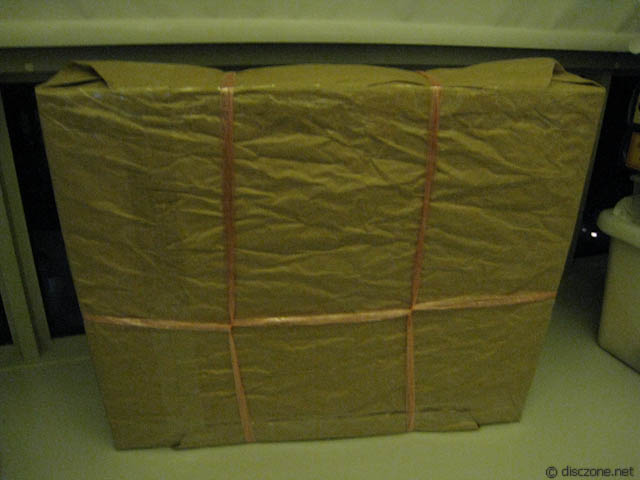 Scary right? Luckily, after opening up the filmsy brown paper, the contents are actually still in excellent conditions.  No damages at all to the box.  Guess I'm lucky this time. 🙂