This is a long-overdue review of the Dell Dual Monitor Stand MDS19.  I bought and setup this way back in Jan 2019 but I didn't have time to write anything on it till now.  Apologies for the delay in action.  I have been working with a dual monitor setup since many years back, starting with a pair of affordable Dell 23 inches, moving onto a pair UltraSharp 24 inches and now a pair of Dell UltraSharp U2717D.  All along, I was using an individual stand for each monitor and elevating them using my DIY monitor stand.  After moving to my new place recently, I took the chance to switch to a pair of monitor arms for the 2 Dell UltraSharp U2717D.  As my study table is custom made, I was not able to make use of the clamp system provided by the monitor arms.  Instead, I have to attach the base of the monitor using an alternative clamp system through a hole drilled through my study table.
Much to my dismay, although the monitor arms are designed to support 27-inch monitors, after using the monitor arms for about six months, the base of the monitor arms gave way and the whole setup toppled and fall over right in front of me.  Luckily, I was sitting there and managed to catch the monitors on time without any damages to them (and myself).  Upon closer inspection, I found that one of the retaining screws on the monitor arms have been sheared in half and gave way.  After encountering this fearful experience, I switched the monitors back to their individual stands and started looking around for a reliable dual monitor stand.
My setup in my new study room.
After looking around for quite a while, I happened to chance upon dual monitor stands made by Dell during one of my searches.   It was the Dell MDS14 Dual Monitor Stand.  However, it can only support up to a pair of 24 inches and the design was quite dated.   The other problem with the Dell MDS14 Dual Monitor Stand is that it not available in Singapore from Dell or the local online sale sites that I usually frequent.  After a couple of weeks (or was it months), I got to know that Dell has released an upgraded version of the dual monitor stand.   The new space-saving Dell Dual Monitor Stand MDS19 now can mounts up to two 27-inch monitors, providing the screen real estate you need to be most productive. The Dell MDS19 frees up the workspace in front of you for writing and referencing while each monitor panel is fully adjustable, allowing you to set the height, tilt, pivot, and swivel to suit your viewing comfort.  The cable management slots on the Dell MDS19 neatly channel cables within its stand, routing them along the curved bar with cable clips keeping the cables intact and hidden from view. The stand's tool-free installation feature makes it easy to securely snap Dell UltraSharp and P-series monitors with Quick Release into place without the need for screws.  The Dell MDS19 also supports Dell E-series monitors and other 19″ to 27″ 100 mm x 100 mm standard VESA compatible monitors.  Below are the detailed specifications.
Specifications
General Information
| | |
| --- | --- |
| Width | 22.7 in |
| Depth | 9.8 in |
| Package Content | Cable clips, round cable slot |
Other Details
| | |
| --- | --- |
| Type | Stand |
| Recommended Use | 2 monitors |
| VESA Mounting Interface | Yes |
| Max Mounting Pattern Size | 3.9 x 3.9 in |
| Cable Management | Cable clips on the bar, round cable slot |
| Recommended Display Size | 19″-27″ |
| Tilt | -5° to 24° |
| Lift | 5.12 in |
| Rotation | -90° to 90° |
| Swivel | -10° to 15° |
| Adjustments | Tilt, swivel, rotation, lift |
| Max Load Weight | 13.2 lbs |
| Min Load Weight | 4.9 lbs |
I started looking around to see where I can find the Dell Dual Monitor Stand MDS19.  However, it seems that the new MDS19 is still not available on Dell Singapore online site or the usual eCommerce site such as Lazada or Qoo10.  Luckily, I managed to find it on Newegg Singapore selling for S$228 ONLY!  Waiting no longer, I quickly placed the order and the huge carton arrived within 2 weeks after that.    Though I knew the Dell Dual Monitor Stand MDS19 is capable to hold up 2 x 27 inches monitors, the sheer size of the carton box still caught me off guard.  Installation was easy and straight forward as there is only the need to attach the vertical part of the stand to the base via a single big hand screwed nut.  This should be familiar to all Dell Monitor users as this is consistent for all Dell monitors' stands' setup.  Attaching my 2 x UltraSharp U2717D monitors was easy too as the default mounts that came with the Dell MDS19 are the ones for all Dell monitors.  Hence, I just need to pop the 2 U2717D and it's done!  Next comes cable management which is quite easy and straight forward as well though I don't think I did a fantastic job out of it. 😀
What a big box.
Made in China.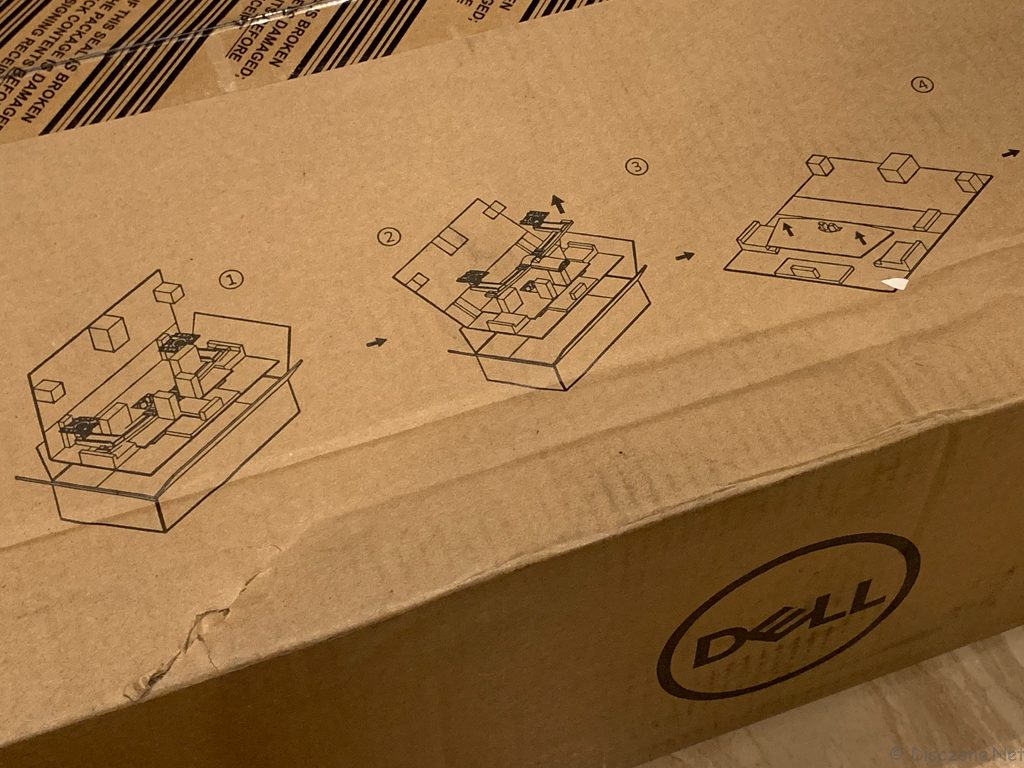 Unboxing instructions on the inside of the carton.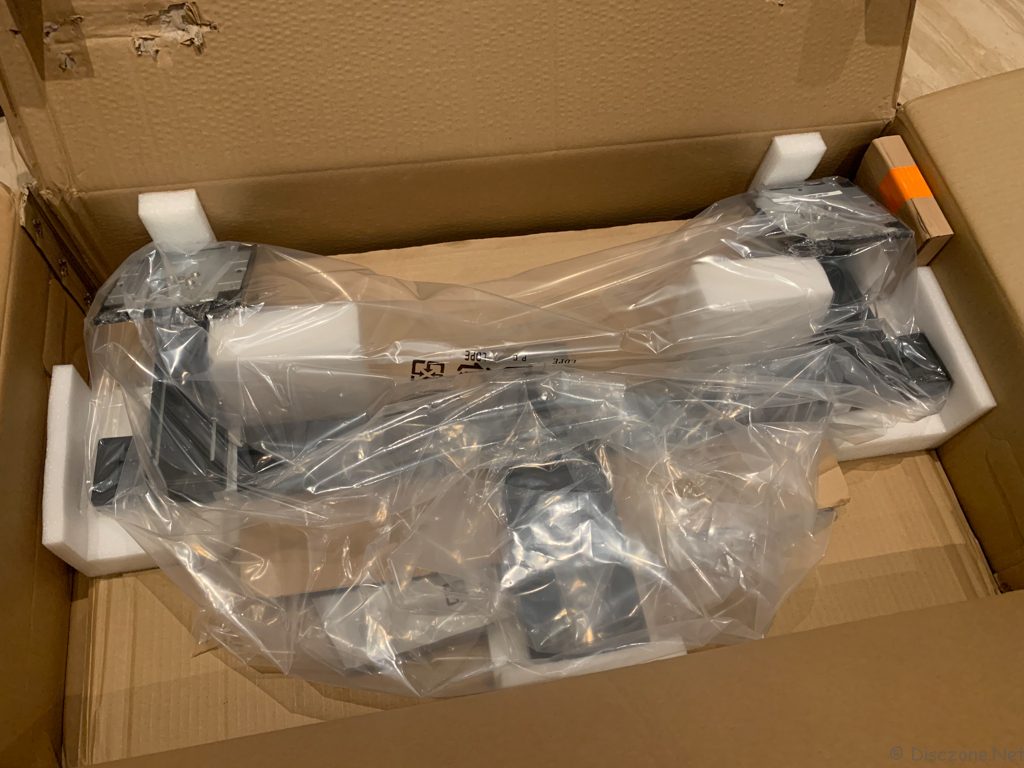 What's inside the box.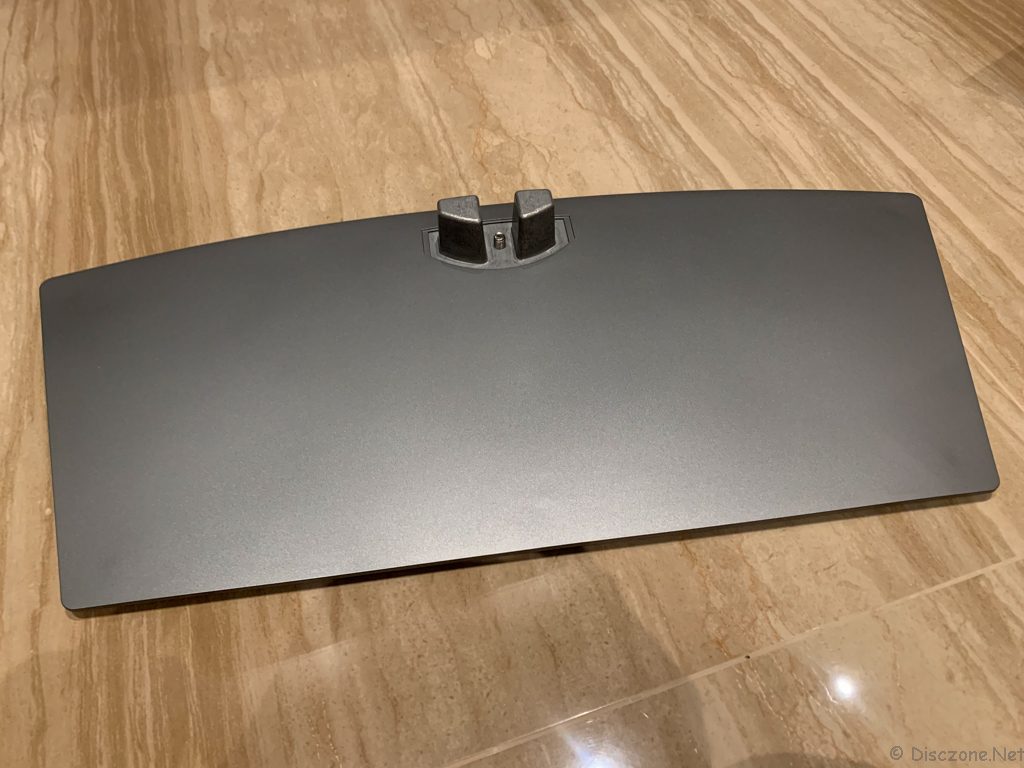 A huge and heavy but stable base.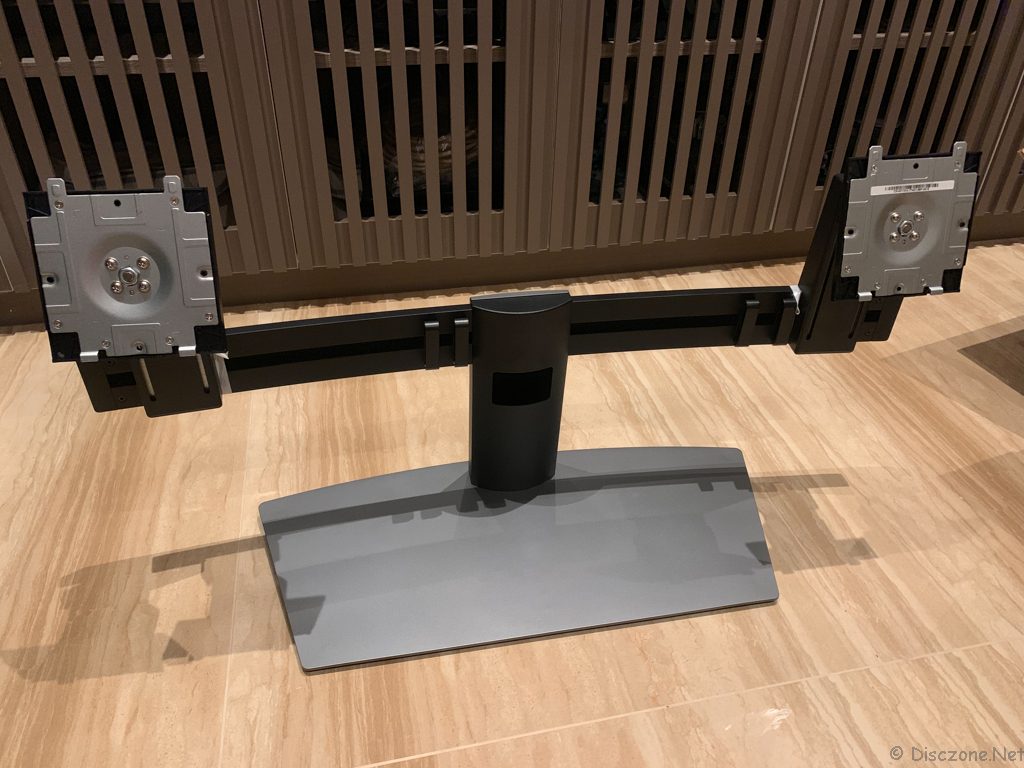 Front view of the Dell Dual Monitor Stand MDS19
Rear view of the Dell Dual Monitor Stand MDS19
The Dell Logo
Rear view of the monitor mount
Front view of the monitor mount (for Dell Monitors)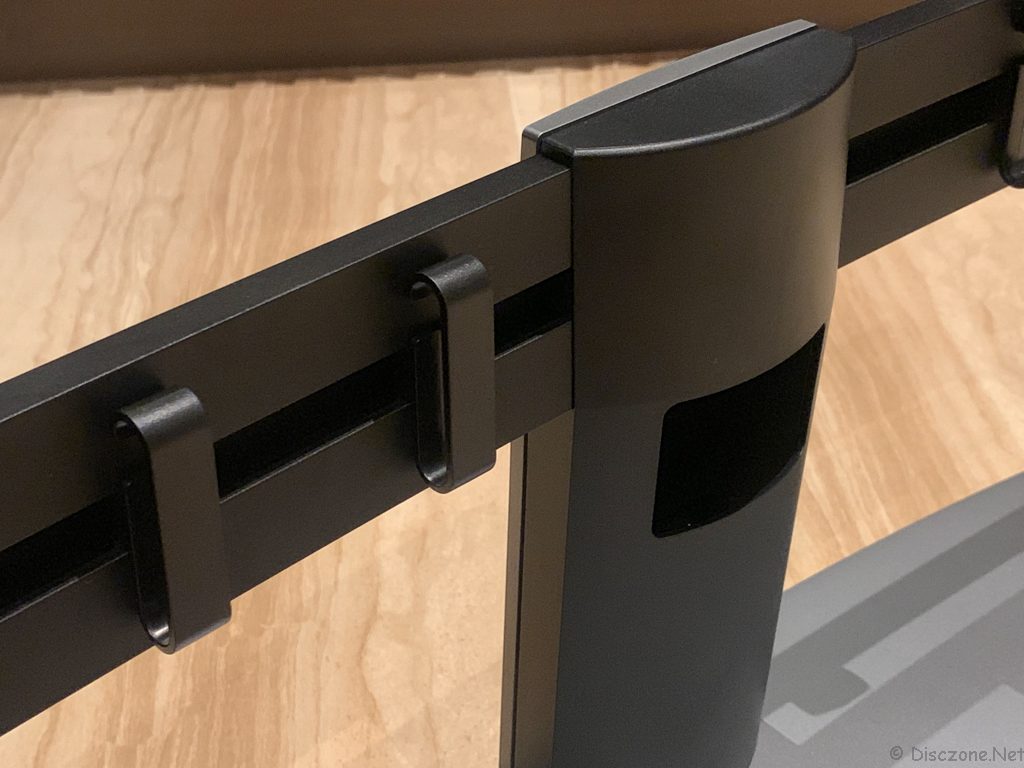 Cable Management
This part holds the cable to the stand
How the cables are then attached to the monitors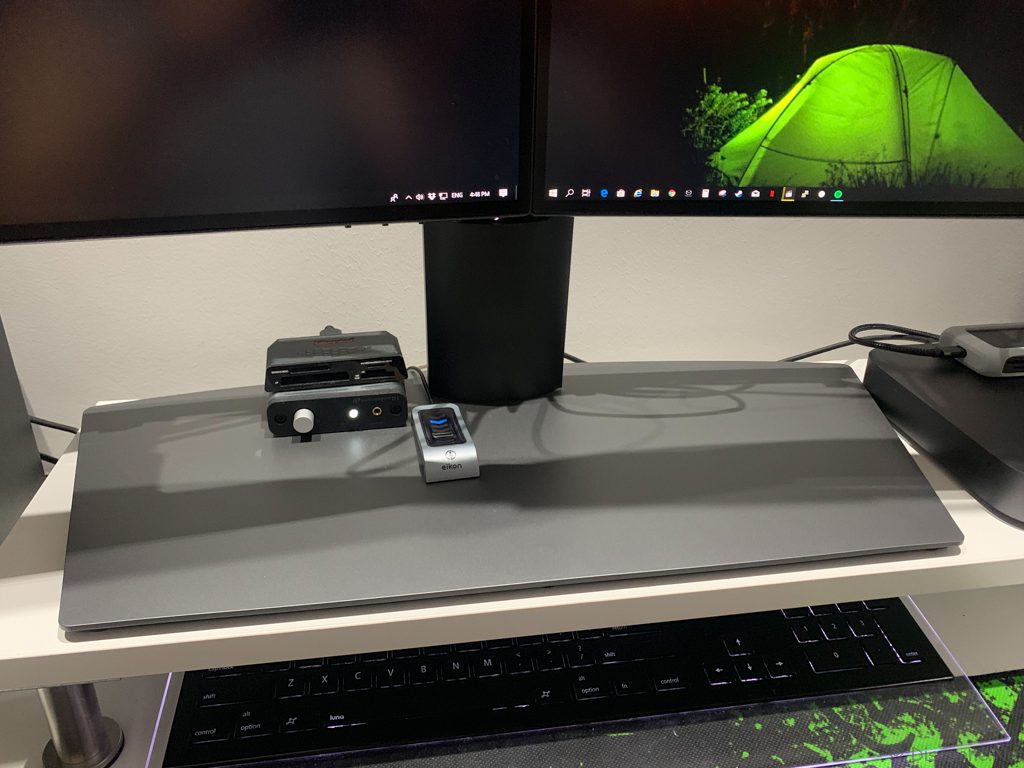 The front view looks neat enough for me.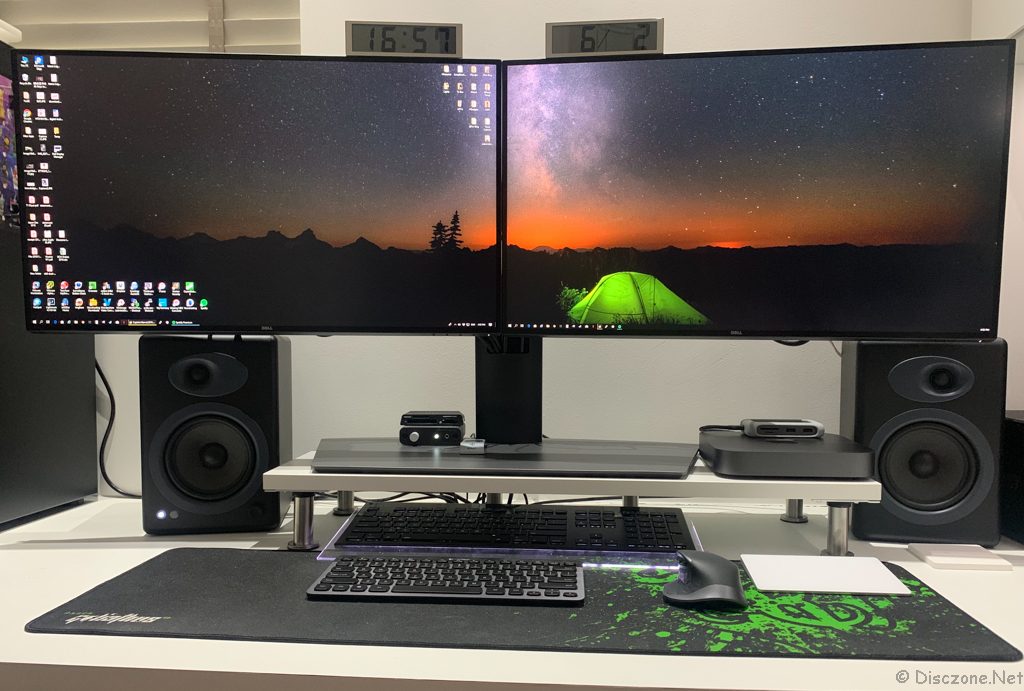 Completed the setup!
And now for the verdict.  Overall, the Dell Dual Monitor Stand MDS19 is indeed a very stable and easy to set up piece of equipment.  Though I have yet to give it a try, the mounted monitors can also be rotated in landscape or portrait modes so long as the cables are free to do so.  Price-wise it is almost the same price I paid for the monitor arms that failed me.  However, while writing this blog, I noticed that Dell Singapore has started to carry the Dell MDS19 but at a higher price of S$285 while Lazada retailers are selling for around S$259.  So it seems that the price of the Dell MDS19 has gone up by almost 10-20% since about a year back.  Nevertheless, for the assurance of a stable stand that will keep my monitors stable and intact, I would think the price is worth every cent.  I certainly would recommend anyone looking for a dual monitor stand to go for the Dell Dual Monitor Stand MDS19.
The new and elevated layout for my desk.