This is the third, not final yet, instalment of the reviews of Leg0 2012 Cars 2 releases.  The first and second parts can be found here and here.  For this third part, the set to be reviewed will be 9483 LEGO Cars Agent Mater's Escape.  The scene on the front of the box is showing Petrov Trunkov firing a missile at Agent Mater who is in flying around in his para sail and rockets.  Next to Petrov is the laser weapon to be used to disrupt the World Grand Prix, disguised as a TV Crew's camera.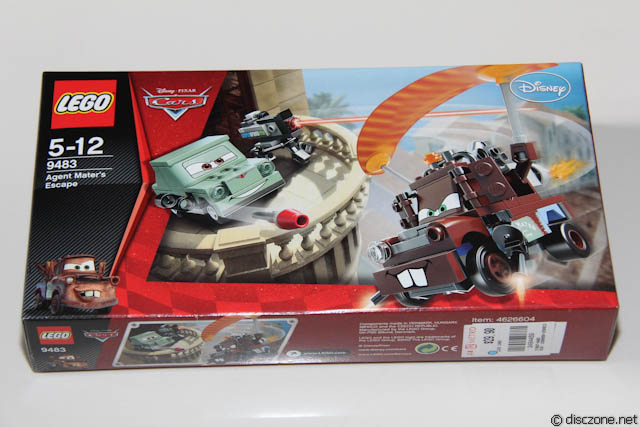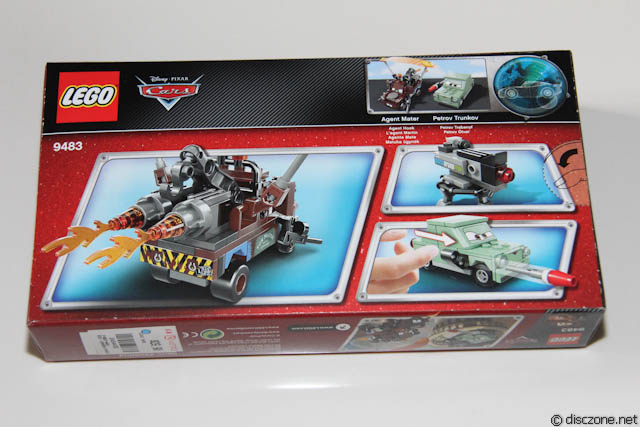 The simple set consist of 2 packs of bricks, an instruction booklet and a single sheet of plastic, which I was pretty glad it has not been crushed or folded during transportation.   This sheet of plastic has an orange para sail nicely printed on it and is something new, at least to me, in Lego sets.  The para sail will need to be torn out from the sheet and attached to Mater during construction.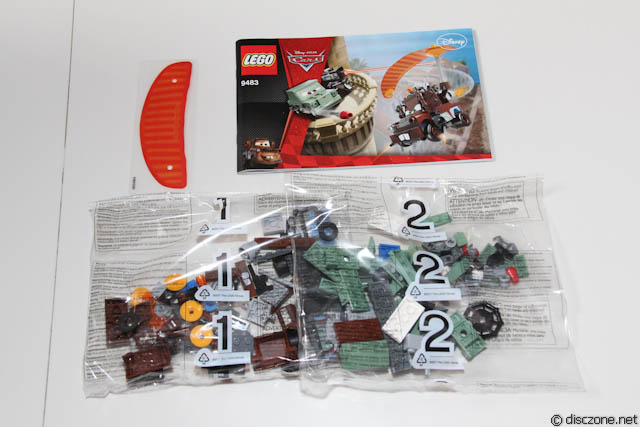 Something else I "accidentally" discovered in the instruction booklet is the inclusion of the different Cars introduced in the various releases.  Below shows the ones that are released in 2012.  Can you spot how many I have covered in my reviews so far?
Of the 3 items to assemble, Agent Mater is the most complex.  For Petrov and the Laser Weapon, their instructions together only made up the second instruction booklet.
I thought it's pretty creative for the designer of this set to use the special parts which we usually see in robots as the legs to the camera.  Otherwise, the Laser Weapon is pretty much made up of very simple parts, completed with the nicely printed plate showing "TV – World Grand Prix".
For Petrov, he is a simple car with just a side missile launcher .  However, from his evil looking eyes, you can tell immediately that he is a bad guy.  Oh, one small touch to him in the inclusion of his number plate "19-71 SMK" at his boot.  I would think this number will tell us how old Petrov is now.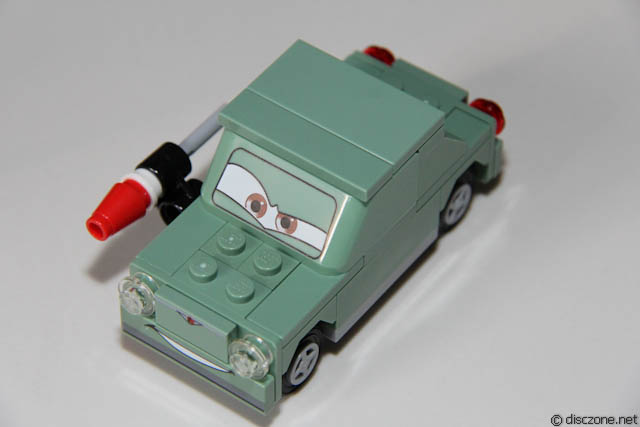 For this set, the major characteristics of Mater is very much still there.  His broken head lamp, towing hook and his exposed radiator.  However, this Agent Mater is more than just a tow truck now.  He is able to para sail and has 2 rockets behind him to help him move freely around in the air.  The two tommy guns by his side also allows him to tackle any enemy accordingly.  See how unique the para sail is attached to Agent Mater using the bar and the round yellow plates?
If you think you already have quite a number of Mater and would just want to give this one a miss, I would strongly advise you against it.  This Agent Mater is very much different from the rest of his other models, not only due to his outfit, but also his determined expressions that is unique to this set.