This is the second instalment of my review on the LEGO 2012 Cars 2 releases.  The first part can be found here.  In this review, I'll be covering the 9484 LEGO Cars Red's Water Rescue set.  This is not a very big set considering that Red, the fire truck, is of a bigger size compared to the rest of Cars' cast.
So who's Acer?  From Pixar Wiki, "Acer has always felt like an outcast in the car world. The beat-up green AMC Pacer joined forces with his fellow "lemon" cars as henchmen for the devious Professor Z, whose clandestine mission is to wreak havoc at the highly visible World Grand Prix."
Red, on the other hand, has appeared in the original Cars movie as a very shy fire truck.  According to Pixar Wiki, "Red does not speak in Cars 2. He only makes a small appearance at the airport, crying as he sees 'Team McQueen' taking off for Tokyo. He also appears in the battle against the lemons, where he arrives just in time to blast some of the lemons away with his fire hose and is seen briefly when Mater and the others return to their hometown."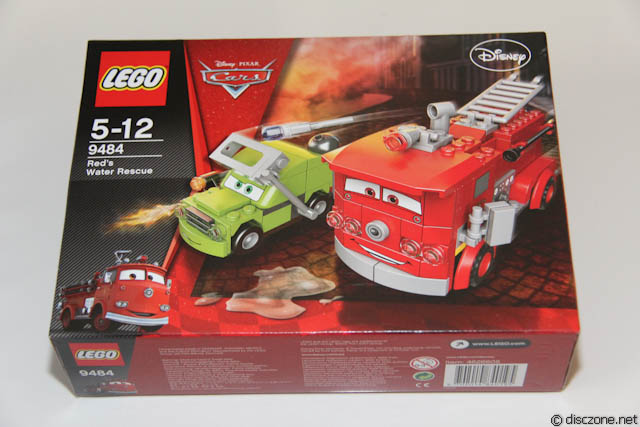 From the back of the box, you can see the weaponry that these 2 mean machines have been equipped with.  There are only 2 packages in this set.  No prizes for telling me that it would one pack for each vehicle.  Assembly took less than 10 mins for both.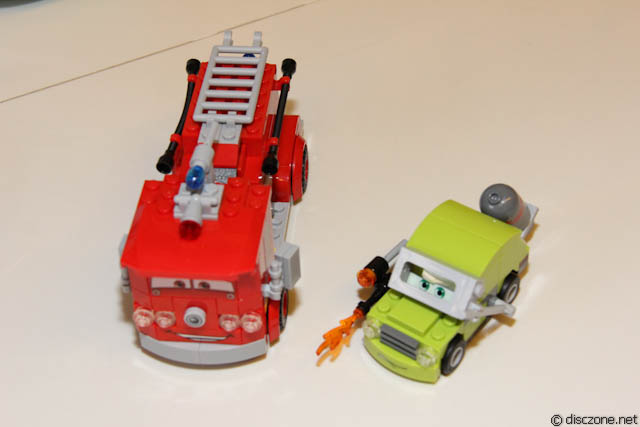 Acer is equiped a missile launcher and a flame gun on his right and targeting visor over his eyes.  Behind his boot is a cylinder that could be carrying the gas he would need for his flame gun.
Red, on the other hand, is simplier. He is just a simple fire truck that comes with all the normal equipment a fire truck would be carrying, the fire hoses, ladder, pumps and siren.  The only thing additional thing he has is the blue color missile launcher over his head which frankly, I couldn't recall seeing it the show. 😀
Still, both vehicles are very nice to have, Red with his friendly eyes and smile and Acer with his determined look to create havoc.