No. I'm not trying to start a coup here nor am I fighting a war.  Singapore is a peaceful country with only wars in games or on the cyberworld. 😛 I just thought I would share something on my 2 small contingents that I've collected for the past 2 series of LEGO MiniFigures since my colleague has just been tempted by what I showed him last week.
So starting from a pile of red packaging MiniFigures 7s, it becomes a stack of neatly placed packages with another stack of instructions next to it.  These are the by-products of the 30 minutes of opening and building these MiniFigures.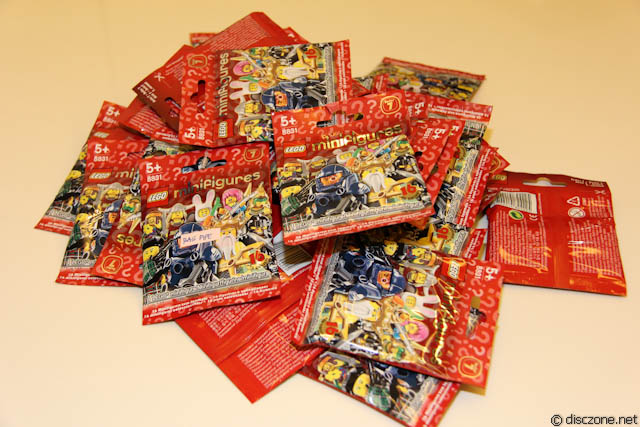 For MiniFigures 7, I had my eyes on the Bag Piper.  I just thought that it should look great next to the previous one I've collected for the MiniFigures 5 series.  I'll show more of pictures later on.  In Singapore, each of these packs is sold for S$4.50.  With luck, you may have 10% or 20% discount if the store is on sale or if you are a member.  For me, I usually get my MiniFigures series during 20% discounts or if my LEGO clan happen to do Mass Order or chance upon a good deal. But for army building, cos it's collecting the same thing, I'll usually try my luck if I happen to be around the places that sells these.  Discounted price or not, I'll leave it to fate.. 🙂
After opening up the package, the Bag Piper set comes with some interesting parts.  Beside the nicely printed head, torso and legs, it also comes with a "skirt", a nice matching headdress and, of cos, a bag pipe.  If you look carefully at the head of the bag piper, you can see that it even have white eye brows.
The bag pier and head dress are all unique to this MiniFigure.  For me, I'll use the unique shape of the 3 and 1 sticks on the bag pipe as the thing I'll look for when trying to find the Bag Piper in the sea of red.  The matching head dress with it's small little ball at the top will assure me that I've gotten the correct MiniFigure.
The "Skirt" of the Bag Piper will have to be wrapped around his legs before the torso is attached.  Problem with this "Skirt" is that there is actually an opening to it.  I'm not too sure where to place this slit but I've standardise all my Bag Piper to have them behind.
After assembling the Bag Piper, you will need to attach the bag pipe to his right hand and then adjust it such that the mouth piece of the bag pipe is nicely at his lips.  Then adjust the left hand to support the bag.
So how many of these did I collect? Not really that much, cos it's not cheap and also.. WHERE GOT SO MUCH SPACE TO DISPLAY THEM!!!
So like the last round for MiniFigures 6, I've opened up 30 packs to form a small contingent.  But to be fair, some of my LEGO clan members have show cased their armies consisting of more than 100 pieces of MiniFigures!  Here's how my small contingent looks like.
For MiniFigures 5, I eyed on the Royal Guard.  For this, as I've started too late, most of the shops have already stop opening up new boxes of MiniFigures 5s so it was a bit challenging for me to find these.  Luckily I had the help of Toy Toy auntie who some how managed to find quite a sizeable amount of Royal Guard for me.  Here's how they Royal Guards look in a contingent.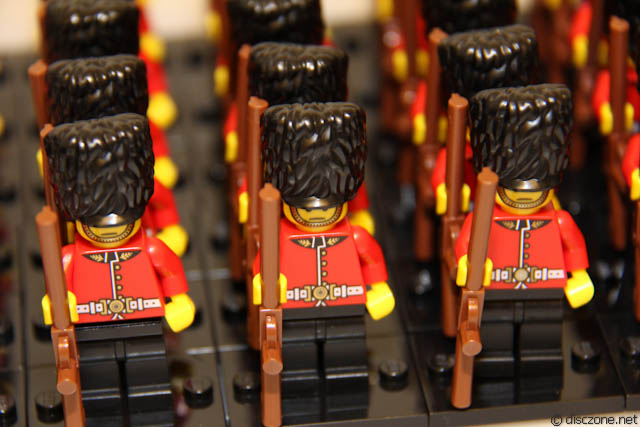 Putting these 2 together, the sight does really look very heart-warming.  Although the "investment" is not cheap, I would still continue to go after those MiniFigures which can add to my contingents in the future releases.  30 will be my magic number to go for. 🙂