Spent the whole day today wasting my time trying to find out why on earth my wireless signals are so unstable.  Some how, the IPCams in my place keep losing their wireless connectivity to my E4200.  All the pinging will have at least 90% losses.  After opening up the EnGenius Router and Repeater for testing, trying to find blind spots in my house, I finally found out the root cause.  Some how, in my estate, there are just too many people running their wireless 2.4GHz networks on Channel 6.  After moving mine to Channel 11, I manage to get at 95% successful pings to my IPCams.  Serious waste of time only to find out this.
Anyway, it is only now that I'm able to sit down and go onto what I've been wanting to do the whole day.  Thanks to Vincent for helping to get this at a good price and the rest of my Lego kakis for tempting and encouraging me to get this set.
The new 2012 Lego series are just available in the specialities Lego stores in Singapore.  The first ones are the DC Super Heroes and the Friends series.  For me, I've been keeping a lookout for the DC Super Heroes series as the MiniFigures that accompanied the sets really caught my eye.  The first set that I manage to lay my hands on in the 6858 LEGO Super Heroes Catwoman Catcycle City Chase.  This is a rather small set, something like the Troopers of the Star Wars series.  From the illustrations from the front and rear of the box, you can see how nicely detailed the MiniFigures SuperHeroes are.   Opening up the box, there is only a small simple instruction booklet and 2 simple packages. There are NO stickers!!
The whole assembly process only took me 10 minutes max.  I started off with the Batman followed by the Catwoman and her Catcycle and lastly moving on the traffic lights corner.  Frankly, after Catwoman and her Catcycle, the traffic lights corner isn't that exciting although Lego tried to put in some interesting details into this part of the set.
The corner consist of a traffic light pole, some crates, a mail box and a newspaper stand.  The more interesting thing about this portion of the set are the details that Lego has put in.  Firstly the traffic lights are 3 sided, showing that it's a traffic junction where this chase takes place.  Below the lights, there are some crates that can be used to create some interesting MOCs for the Super Heroes series if you want.  What I like most of this portion are the simple mail box and the 2 newspapers pieces next to it.  You can see from the picture below that Lego has put in much printed details on these 2 tiles.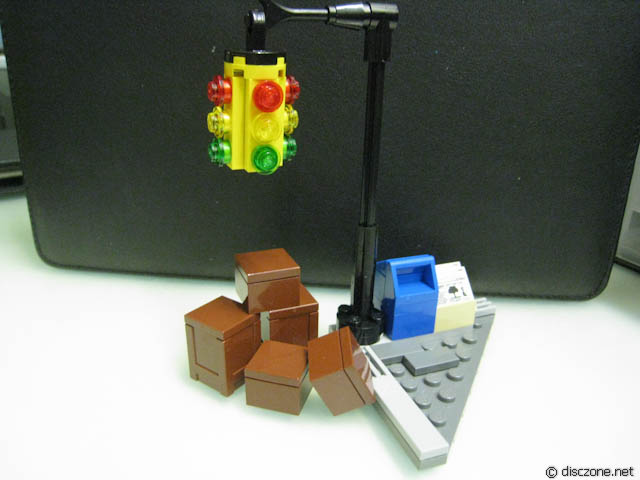 For the Catwoman, she has a cute Catcycle that i purple in color.  The Catcycle is similar to to a normal Lego City Police bike except that the design tried to add on some details by giving it a longer tail and a different type of headlights.  Also, the Catcycle is able to carry things including Catwoman's whip by the side.
For this set, Catwoman has been portrayed to be stealing a diamond that she is carrying in her hand.  Catwoman's Minifigure has also much details including a zipped suit and an hour glass figure.  The more interesting part of Catwoman is she comes with 2 faces.  This allows 2 types of facial expressions to be shown with the Catwoman's mask on.
Similar to the Catwoman, Batman's MiniFigure also comes with 2 faces.  However, the difference between the 2 Batman are just the expression of the mouth.  Some how, Batman's mask seems to be too high to show his eyes.  Instead, there is a band of white at his forehead area that will become his eyes when his Batman's mask is on.  The Batman's MiniFigure comes with a set of bat wings and a rocket pack that most likely allows him to fly to chase after Catwoman.  Also he has an interesting looking bat shaped weapon that most likely is a boomerang.  Batman also comes with a six pack body with his weapon belt nicely printed on his body.
I would give this set a 8.5 out of 10 due to the unique and detailed MiniFigures included.  Although the price for this set is not that high, it is only made attractive due to the MiniFigure and not for the number of pieces.  Nevertheless, I still like this set very much and will most likely continue to get the rest of the DC Super Heroes series when they are most readily available in Singapore.  Also, if budget permits, I would certainly get more of these sets to keep. 🙂