After completing the reviews of 8200 and 8201 LEGO Cars 2 Lightning McQueen and Mater, the next set (turns out to be sets) I moved on to was the 8484 LEGO Cars Ultimate Build Lightning McQueen.  This is the bigger brother of the 8200 LEGO Radiator Springs Lightning McQueen.  There are a total of 3 sets of Ultimate Build released in this series including this set. The other 2 are the 8677 LEGO Ultimate Build Mater and  the 8678 LEGO Ultimate Build Francesco.  I'll do a 3 part review of this series to complete the full picture.
Comparing with the size of the 8200 LEGO Radiator Springs Lightning McQueen, the Ultimate Build set is much bigger.  It also come with a cute Guido that the smaller 8200 doesn't have.  Here are the pictures of the box itself.
There are only 2 packages with this set and as you can see, it's mostly red parts. 😀 This time round, stickers are included although some parts have been printed on the bricks itself, e.g. the eyes of McQueen.  Seems that Lego only chose to print items that are simple in color , eg White and Black and leave those more complicated design to stickers.  Saving costs I guess..
The whole assembly took around an hour if I remembered correctly. In this set, it comes with 2 vehicles. Beside the McQueen, the set also include the cute Guido carrying the flag with the number 95 on it.  Although the Guido is very simple in design, but the outcome is still very nice with the printed face piece and also the nice pastel colors of it. 
The completed Ultimate Lightning McQueen very much different from the 8200 McQueen.  This Ultimate set comes with more design and even a different bonnet design of the Piston Cup compared with the Rust-eze that we see on a normal McQueen.  Also, the side of McQueen has more patterns and the spoiler of McQueen looks more like a G-Wing than just a normal spoiler.  If you take a look at the wheels, the rims of the Ultimate McQueen is gold with white trimming compared with the normal red rims.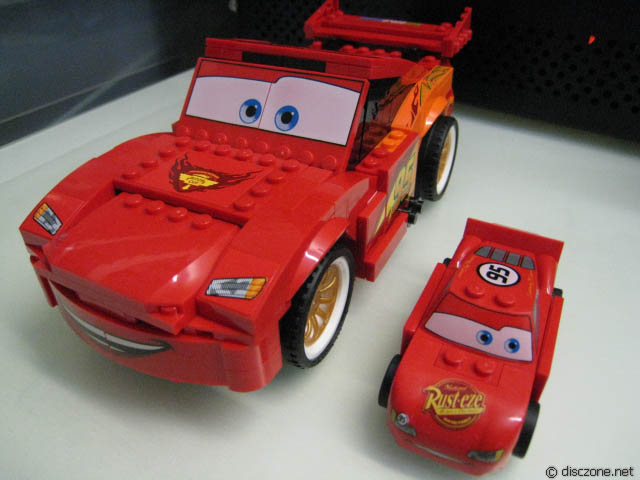 Here are some detailed pictures of the Ultimate McQueen.
Overall, I would say that although this set is quite enjoyable to build.  However, I thought the designers could have done by by adding in details of the engine or allow the boot or bonnet of the Ultimate McQueen to be opened since this is consider quite a big set.  Looks wise, I think I would still prefer the more rounded desing of the normal McQueen.    Here is another look at the completed set.