Actually i've finished with the building of this set for almost 2 weeks.  Took some pictures along the way but some how couldn't find the time (and the discipline) to sit down and finish up this review writeup.  Anywhere, here goes 🙂
I got the set from Metro during one of their 20% off storewide discount sales.
Seems that there are 2 options for the assembly.  However, only the super car instructions came with the box.  The other one shown on the back can only be downloaded from the Lego Technics website.
The inside of the box looks like this.
What a mess :P! Below all the packages, it seems that Lego now has package the instruction booklets with a cardboard backing!  At least now they dont get crumpled during handling 🙂
Here's how all the packages look like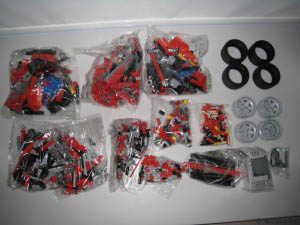 Anywhere, from this point onwards, there is no turning back.  I keep building n building n building whenever i can afford the time and space.
See how the motorized unit has merged in?
Here's some zoom in views of the gear stick portion which allows the different portions to be moved be the motor.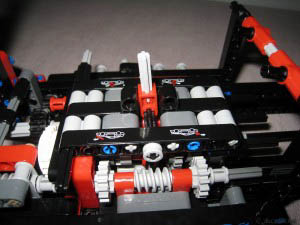 Turning it other way, you can see the details of the pistons of the engine and the wheel assembly.
The frame of the car is slowly taking shape.
The Super Car is completed…
Took me almost 3 days and nights to complete the whole kit.  As a whole, the experience is quite challenging but it also brought back the pains at the finger from assembling Technics Sets.  Out of 10 stars, i would give this set a 8.  Points were deducted from the hardship 🙂 as well as the stickers instead of printed pieces.
Here is another view of the completed Supercar.